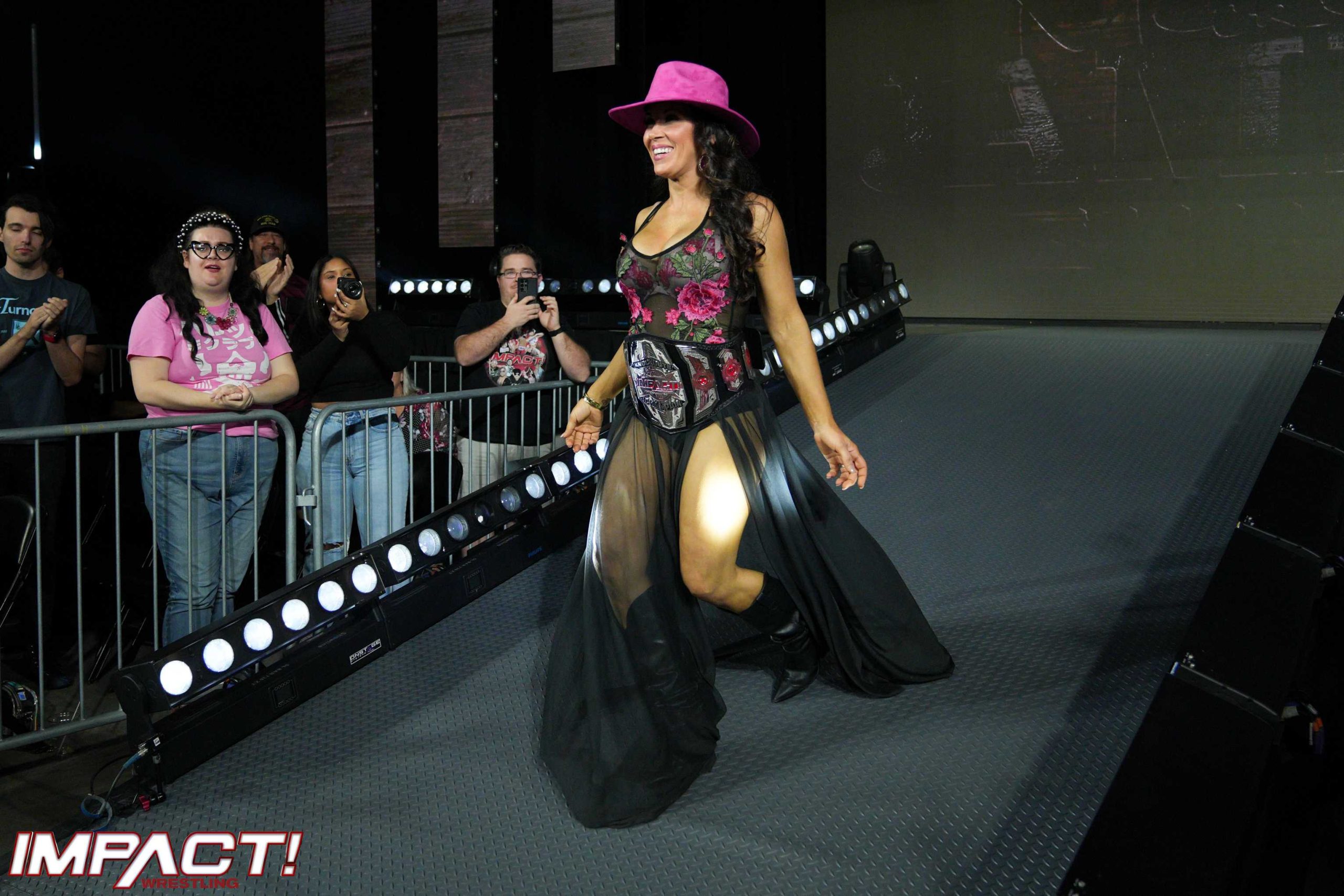 We break in to the Top 10 and we have our first champion making her appearance. Fresh off the end of her Last Rodeo, James did not compete in the ring this week but it did not stop her getting physical.
Giving a receipt to Bully Ray for his interrupted previously, James confronted the Impact star and slapped him across the face. Things looked bad for the Knockouts Champion but Tommy Dreamer made the save and an intergender tag team match has been booked for next week. With Masha Slamovich waiting in the wings, the week ahead could prove very trying for Mickie James.
Ranking #9 – Damage CTRL
It has been quite the week for Damage CTRL, starting at the Rumble where they collectively eliminated seven women from the match, including their rival, Becky Lynch.
On RAW, one half of the Women's Tag Team Champions continued their success when Iyo Sky defeated Candice LeRae. Later in the night, Bayley would take to the mic and belittle Becky Lynch while avoiding the chance of a do-over after their cage match did not go ahead.
Lynch would force Bayley's hand by targeting Dakota Kai with a chair and the match is official for next week. It seems the tag champions have been MIA since RAW however, so Bayley may have to truly go it alone.
Ranking #8 – Asuka
When this image marched down the Royal Rumble rampway, we held our breath to wonder what version of Asuka we would be getting.
Sporting a new, to WWE, look and facepaint, Asuka took her opponents by surprise and made her way to final three, proving pivotal in the end result. A miscalculation with the mist would blind Liv Morgan and set Asuka up to be taken by Ripley.
Asuka now prepares for Elimination Chamber, her spot already guaranteed for making it to the end of the Rumble. She made a brief appearance on RAW during Carmella's interview but rather than goad her in the way even Carmella predicted, Asuka would offer only a sadistic smile showing that this is indeed a new Asuka.
Ranking #7 – Liv Morgan
From the shortest time in a Rumble to one of the longest. For weeks, Liv Morgan had been petitioning to start as entrant number one in the rumble and vowed she would go all the way. While she started as number two, she kept her promise to make it to the end, being the final competitor eliminated by the winner, Rhea Ripley.
Morgan would next appear on Smackdown, watching with interest to see who would join her in the Elimination Chamber in Canada. In a Digital Exclusive, Morgan reflected on how she has the most experience in Chamber matches, giving her an edge over her competition.
Since returning to Smackdown and reclaiming the Smackdown Women's Title, Charlotte has been fending off the persistent assaults from Sonya Deville.
She has been taunted, blindsided, and insulted by the former authority figure to the point that Flair would voluntarily give a title shot to her new rival. This new Flair operates with the support of the WWE Universe as her return came with a new attitude and this support propelled her to defeating Deville once again this week on Smackdown.
A lack of appearance at the Royal Rumble leaves Charlotte just shy of the Top 5 but she did hype the Vengeance Day event in a recorded promo and has been chosen as Rhea Ripley's choice for Wrestlemania.
Ranking #5 – Kiana James & Fallon Henley
Let Vengeance Day be a warning that things in the WWE can switch on a dime. The pairing of James and Henley was an interesting choice when it first happened but with their victory this weekend, they are not only undefeated as a team but they are your new NXT Women's Tag Team Champions.
How they won aside, the two now have new targets set on them as new teams begin to forge in the NXT locker room and the potential for former champions, Kayden Carter and Katana Chance, to demand a rematch.
It will surely only be a matter of time before Henley finds out how James 'assisted' her pinfall in the match but for now, the pair sit high in the rankings, debuting at #5.
Ranking #4 – Jade Cargill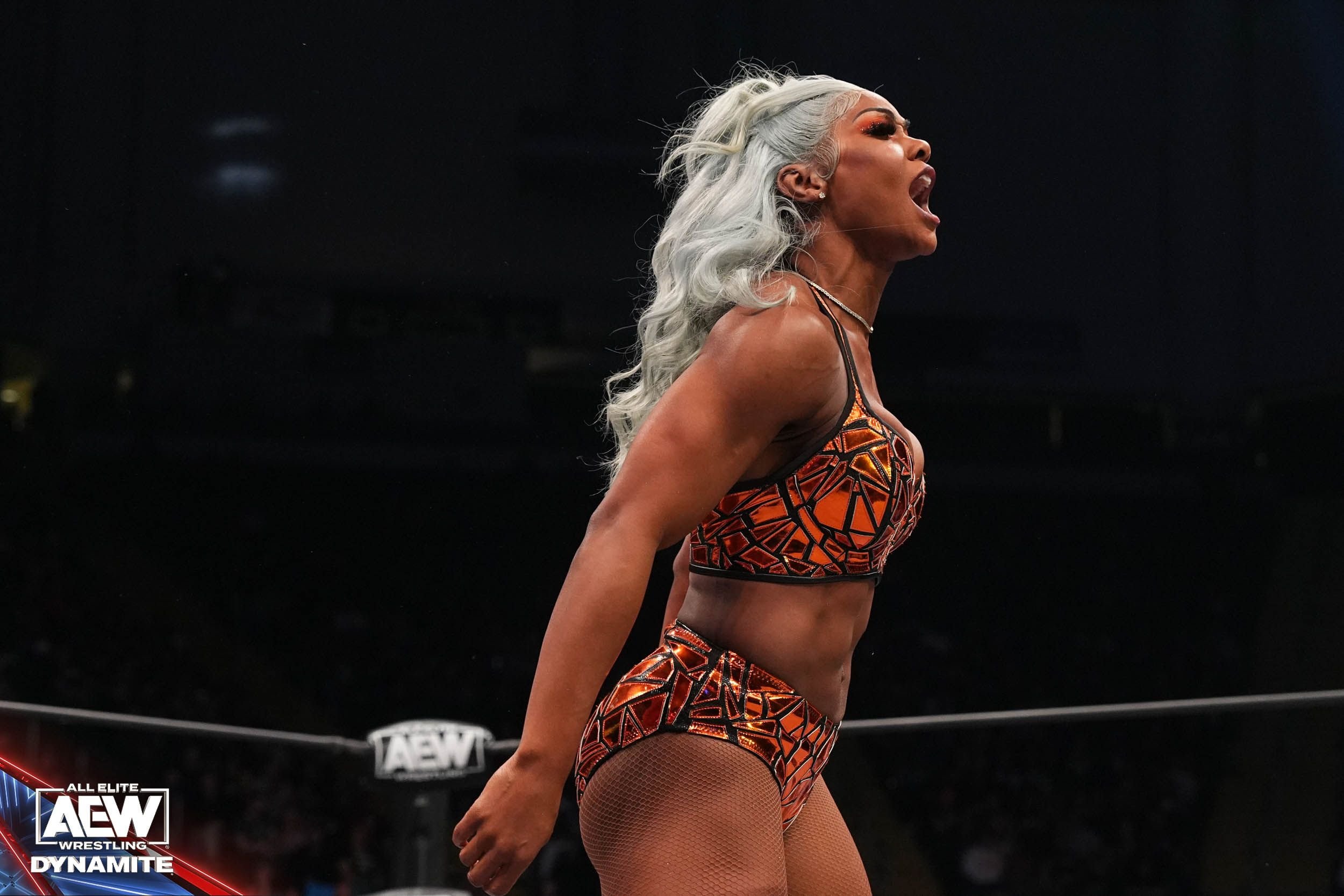 This week on Dynamite, Jade Cargill got herself to 50-0 when she defeated former Baddie ally, Red Velvet.
The match allowed Cargill to demonstrate her superior strength when she would military press her opponent and walk up the ring steps with Red high above her head! A shock from the match came when, thanks to Keira Hogan's interference, Cargill would be taken down and pinned for longer than three seconds but as the ref's attention was elsewhere, it did not count.
Cargill would recover quickly and hit the Jaded to continue her win streak and retain her title, celebrating with Leila Grey and her daughter.
Few had a better 2022 than Bianca Belair, having won the RAW Women's Championship at Wrestlemania 38 but as we begin back on the build to Wrestlemania 39, all eyes are on her reign.
At the Royal Rumble, Belair managed to silence her former friend turned enemy in Alexa Bliss, putting their brewing feud firmly behind her once and for all. After winning the Rumble, Ripley chose Charlotte as her championship match of choice leaving Belair in need of a contender.
While she did not appear on RAW outside of a Digital Exclusive, the discussed Fatal Four Way has massive repercussions for Belair as the winner will go on to Elimination Chamber and the winner will challenge Belair at Wrestlemania.
Ranking #2 – Roxanne Perez
What a week it has been for The Prodigy!
Not only did Roxanne compete in her first-ever Royal Rumble, she brought the fight to Toxic Attraction on NXT and then successfully defended her NXT Women's Title for the first time at Vengeance Day.
Throughout her feud with Toxic Attraction, Perez's ability to be a champion was called into question and she went into Vengeance Day prepared for a handicap match and it almost was. The early match had Perez fending off both her challengers simultaneously and at one point she was pinned by both at the same time.
The end of the match came when Perez managed to send Dolin through a table and then hit a Super Pop Rox with a sickening bump to pin Jayne.
Ranking #1 – Rhea Ripley
Arguably, who else could it be in the number one spot this week?
Not only did The Nightmare go bell to bell in the Women's Royal Rumble, she secured the most eliminations in the match and managed to run right through Edge as he attacked her Judgment Day comrades.
No sooner had her win been announced was the wrestling world debating who Ripley would go on to challenge, given her history with both Women's Champions. Luckily, she did not leave us waiting long as she announced on RAW her intentions to avenge her Wrestlemania 36 loss by challenging Charlotte.
Before then, Ripley and the Judgment Day are not as finished with Edge and Beth Phoenix as they would like to be and we can expect this rivalry to continue this Monday.
What do you think of the rankings? Who would make it to your rankings and who would be your wildcard to watch this week? Discuss in the comments!