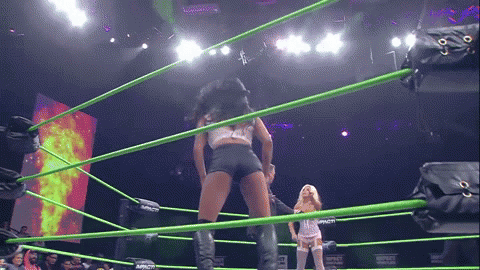 Hola Knockout fans and welcome to this week's Impact Write-Up. As we saw last week, Taryn Terrell is back at GFW and she is wasting no time picking a bone with the one and only Gail Kim. What trickery does the former Knockouts Champion have up her sleeves? Let's dive in and find out.
We start with a highlight package from last week's Knockouts title match with comments from Gail and her pending retirement. Taryn comes out to a new theme song that is certainly an upgrade from her Dollhouse days! Welcome back Taryn and huge LOL at the cross in that entrance video!
Inside the six-sided ring, Jeremy Borash is waiting for Taryn to ask the question everyone has been asking: why attack Gail? Taryn replies that she was (kind of) best friends with Gail and even showed up to her Hall of Fame ceremony. Pat on the back to you for that Taryn.
Taryn continues by saying that Gail never thanked her and that she doesn't even follow her on Twitter at @IamTarynTerrell. Taryn finishes her rant by saying she is sick of this being the 'Gail Kim show' and that her attack last was just a way of helping Gail along her journey to retirement.
This brings out Gail who is itching for a fight but Taryn manages to escape before any punches can be thrown. "I'm doing you a favor" cries out Taryn as she heads out to the back to end our segment.
Throughout the show, we are also treated to a second video hyping of Taya's arrival to GFW.
Karen Jarrett commented on Taya's arrival, recalling that she sensed Taya had that "It" factor when they first met in Mexico years ago.
And finally, we're treated to a miracle: Laurel Van Ness is no longer a broken bride!
During Grado's farewell to America segment, a stunning Laurel makes her way to the ring with a message for the Scottish wrestler. She says that the past weeks have been the happiest of her life and that because of him, she's a changed woman! After making some awkward food references (seriously, who wrote some of those lines?), Laurel gets on one knee and pops the question!
Grado happily accepts, fans in the Impact Zone are celebrating and it looks like Grado will be avoiding deportation after all! The possessive Kongo Kong's music hits and he tries to get in the way of Laurel's proposal but Mahabali Shera steps up to Kong, causing him to retreat to the back? Where the hell did Shera even come from?
Thoughts: Taryn's mannerism throughout her interview still had some Dollhouse vibe to it. She's sarcastic, sassy and based on her attire, seductive. Taryn is standing solo this time and although I find the reasoning for her feuding with Gail this time around to be a bit petty and easy, I'm looking forward to more interaction between her and Gail.
Just look at how intense Gail cam across when confronting Taryn! We've seen the chemistry between these two in the past and I'd like to see how they can keep it going outside the title picture.
The hype packages for Taya's arrival have been awesome! I'm beyond happy for Taya getting this opportunity to perform on a bigger platform after dealing with that screw job from AAA and the uncertainty of Lucha underground's future. She's a great talent and addition to, what feels like, a new wave for the Knockouts division.
Personally, I've never been a fan of Grado but the guy gets a reaction in whatever storyline GFW writes up for him. I'm still not sold on this current project, like the broken bride stuff, its ran its course but in an attempt to find some positives, I will say that I'm relieved that Laurel has dropped the "Broken Bride" gimmick. Let's work on having Laurel getting back into the ring as a full time competitor next!
What did you think of this week's episode of GFW? Looking forward to Taya's arrival? Are you sold on the Laurel/Grado storyline? Let us know in the comments below!