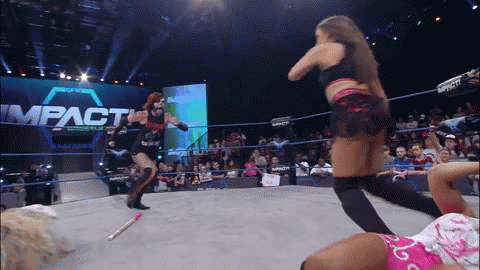 Hola Knockout fans and welcome to this week's GFW Impact Write-Up. I'm still trying to adjust to the new name! On this week's program, the reigning Unified GFW Women's and Knockouts Champion Sienna is back in action as she takes on aspiring Knockout Amber Nova.
We are also treated, as we saw last week, to an update on the proposed 'Netflix and Chill' date between Grado and Laurel Van Ness. Will the Scottish pro wrestler be able to avoid deportation after all? Let's find out!
Amber Nova is already in the ring as the GFW Knockouts Champion (is that what we're calling it now?) Sienna makes her entrance, proudly showing off both of her titles. The bells sounds off and Amber starts things off by charging right after Sienna, landing in some quick forearms.
Sienna shoves Amber away and displays her power when she catches her opponent into a fall away slam and then following up with a wheelbarrow suplex.
Sienna scoops Amber once more, this time setting up for a prolonged suplex but Amber escapes with a single knee drop to Sienna's head. Amber tries to fight back but to no avail as Sienna strikes Amber in the midsection and hits the AK 47 to get the quick win!
Post match, Sienna grabs a mic to say she did exactly what she set out to do. You see, while Rosemary was too busy 'petting bunnies and writing emo poetry', Sienna was putting in work even though no one believed in her. Well, we are guilty of that here…
However, there is still one specific person who has never believed in Sienna nor did they even congratulate her on her big win from Slammiversary. We're talking about you Mrs. Jarrett! Sienna demands that Karen comes to the ring so that she can properly show the champion some respect.
Karen's music hits and when she meets up with Sienna, she asks Sienna what is it that she wants. Instead of asking for some congratulation wishes (its too late for those) Sienna tells Karen that she wants to see Karen get on her knees and say that she is the most dominant Knockouts Champion that has ever existed.
Karen brushes off Sienna's threats and tries to leave the ring before things can get physical. This brought out Allie who came to the rescue by attacking Sienna with a kendo stick!
Not so fast Allie, Sienna's partner in crime Laurel Van Ness is out next and the heels use the numbers game to beat down on Allie. A returning Rosemary comes out next and hell breaks loose: Rosemary and Sienna brawl, Laurel attacks Rosemary behind with the kendo stick and even Mrs. Jarrett got physical when she pulled Sienna by the hair.
Things comes to an end when Gail Kim runs in to help clear the ring of Sienna and Laurel. Before Sienna can huddle to the back, Karen grabs the mic again to announce that Sienna will defend her GFW Knockouts Championship against Rosemary in a Last Knockout Standing match! Hooray for someone properly getting a title rematch!
During GFW's Last Word, Rosemary says she is more than ready for next week's Last Knockouts Standing match.
Later in the evening, we spy Joseph Parks giving his client Grado some last minute pointers for his date with Laurel. He tells Grado to just be himself, romantic and to avoid that monster known as Kongo Kong! Laurel arrives to the date still wearing that wedding dress. Instead of offering chocolates and champagne, Grado offers up some coupons for Laurel but Laurel doesn't mind as she has been drinking champagne all day anyway.
During the not-so-normal date, the couple share dinner, enjoy a moonlight walk and a starry night – all in the name of a citizenship! After the date, Joseph Parks meets back with Grado to ask if they're ready to move on to the next phase: matrimony! This love story continues on but don't forget how things ended the last time Laurel was in an Impact Wrestling wedding Grado.
Thoughts: For the most part, squash matches are never a positive thing – more so when they are in a 'blink and you'll miss it' time frame. Sure Sienna picked up a win but it almost means nothing when its against someone who isn't contracted with the promotion. At least during Amber's previous appearance on Impact, we saw her get some offense in and actually featured during a Last Word clip. A part of me wishes we would've just skipped the match and just had Sienna call out Karen as is.
Putting aside the frustrations I have with these short matches, I do continue to enjoy Sienna's growth. There's more confidence in her tone even when calling out an authority figure like Karen. I don't see Sienna's feud (if we want to call it that) with Karen reaching the level of Karen versus Velvet Sky but I do think that using Karen has helped Sienna vent out.
I'm excited  for next week's match and I hope that GFW can get back on track in giving their women the chance to shine again! Rosemary has been MIA for a few weeks and still has unfinished business with Sienna. I do wonder where Gail will fit in all of this. Surely with her pending retirement and her interference here, she will have a focal point in the months ahead. Perhaps even another shot at the title? Time will tell
As far as the Grado/Laurel saga goes, I'm not too crazy about it. Don't get me wrong, I'm not against comedy in wrestling, they actually tend to be a nice break from all the seriousness of things. I just think that maybe someone else outside Laurel could've been used – perhaps one of the newer Knockouts to at least be re-introduced to the fans?
We know Laurel as it is and she is still in her dual role as Sienna's sidekick. She has been making the most of her gimmick, despite how long its been already. If anything, I hope that this little chapter is used as a mends to break Laurel free from it.
What did you think of this week's episode? Looking forward to next week's Last Knockout Standing match? Are you enjoying the Laurel/Grado love story? Let us know in the comments below!