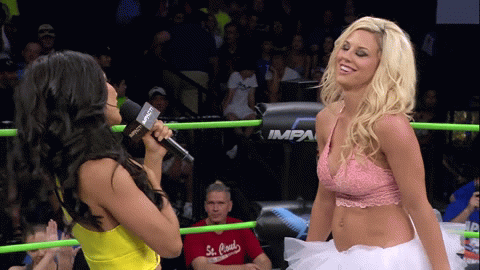 Hola Knockout fans and welcome to this week's episode of Impact Write-Up. With our Bound for Glory Knockouts Championship match set in stone, we are officially on the road to the big show taking place in Canada this year!
This week, we get to see two Knockouts involved in that title match (somewhat?) action against each other when the Knockouts Champion Sienna teams up with Caleb Konley and Texano to take on the team of Allie, James Storm and Dezmond Xavier.
Elsewhere, the other two challengers to Sienna's Knockouts Title, Gail Kim and Taryn Terrell, come face to face as do Rosemary and Taya Valkyrie!
Speaking of Bound for Glory, LAX are determined to recapture the Tag Team Titles from OVE and Konnan calls them out at the start of this week's program. LAX aren't looking for just any kind of rematch, they challenge OVE to a 5150 Street Fight, which the champions gladly accept. Does anyone know what a 5150 Street Fight is exactly?
In the midst of the heated exchange, Diamanté takes the mic to add that the 5150 Street Fight will include ALL of LAX and soon a brawl breaks out between the two teams with LAX standing tall in the end. Well at least we officially have our Tag Team Title match for Bound for Glory?
It's a nice day for a @WeAreRosemary Red Wedding! #IMPACTonPOP pic.twitter.com/lfBFIr9T2w

— TDE Wrestling (@totaldivaseps) October 13, 2017
We check in with Rosemary next who is in action this week in a match against Hanna Hartford. Scratch that, let's just call call it a squash match as Rosemary puts Hartford away in less than a minute via Red Wedding. Seriously, Rosemary's entrance to the ring felt longer than the actual match!
The more fun stuff takes place after the match. Rosemary grabs a mic and says nothing excites the Demon Assassin quite like finding an opponent truly worthy of her brand of violence and destruction. Looking at you Taya Valkyrie…
Rosemary goes on to invite Taya to the six sided ring for a little dance, to which Taya gladly accepts. After making her regal entrance, Taya stands face to face with Rosemary but instead of throwing any punches, she spits out a red mist that blinds Rosemary! Taya then scoops up a frantic Rosemary and lays her out via Road to Valhalla.
After the confrontation, Taya promises to unveil more secrets to Rosemary in the coming weeks.
By order of @TheJimCornette next week @TheTayaValkyrie will face @WeAreRosemary #LastWord pic.twitter.com/28N194ziSf

— IMPACT (@IMPACTWRESTLING) October 13, 2017
Perhaps some of those surprises will play out next week when Rosemary and Taya go one-on-one against each other.
Our Knockouts segment sees Taryn Terrell make her way to ring to gloat on her Knockouts title opportunity at Bound for Glory. While the chance of becoming Knockouts Champion again is nice, Taryn has her sight on something a bit more personal come Bound for Glory: Gail Kim.
Taryn doesn't understand how fans can cheer for Gail and why her husband, celebrity chef, Robert Irvine is even married to her. Taryn plans to show everyone how pathetic Gail really is. When Taryn says that Gail and "Bobby" (Taryn's nickname for Robert) will star in 'Divorce Court' out comes Gail Kim to respond to Taryn's comments.
Mic in hand, Gail tells Taryn that she has nothing to worry about. Gail says she has no plans to touch or hurt Taryn, she just wants to talk. Gail isn't phased by Taryn's so called mind games and instead warns Taryn that karma will come back to slap her across the face. Gail takes back her initial promise of not laying a finger on her rival and instead slaps her across the face! She adds stomps and grounded punches that chases Taryn away.
.@Sienna would like to make this short and simple. Sorry, McKenna… err, @mckenzienmitch. #IMPACTonPOP pic.twitter.com/tQLVK9QeWD

— TDE Wrestling (@totaldivaseps) October 13, 2017
Before we get to our scheduled six person tag team match, Impact Wrestling corespondent McKenzie Mitchell is backstage to interview the Heels. Sienna takes the mic from "McKenna" and says that main reason she is around is to prove why she is the greatest Knockouts Champion of all time.
Sienna says she is looking forward to throwing around that "little, poor, helpless" Allie and orders her tag team partners to stay out of her way.
The Knockouts start things off for our scheduled mixed tag team match. The Impact Zone are fully behind the lovable Allie but Sienna wastes no time getting in a cheap shot behind Allie's back. She follows up by stomping Allie into a corner and then whipping her across the ring.
The Knockout Champion charges after Allie but Allie dodges out the way. Allie takes Sienna down with a clothesline but the Knockouts Champion retreats from the action by making a tag to Texano. He has sight on James Storm and Allie complies.
Throughout the match, the heels work together to try and wear Storm down. However, the Cowboy is able to make a much needed tag to Desmond Xavier after landing a jumping beck breaker onto Texano.
Chaos breaks towards the middle of the match when everyone runs into the ring – including Allie hitting a Codebreaker onto Texano and then flying off the ring apron to take down Sienna from the outside. In the end, the babyfaces pick up the win thanks Storm hitting a Last Call Superkick onto Konley.
Thoughts: This week had a lot of Knockouts spread throughout the show yet there wasn't exactly too much to take away from it.
The mixed tag team match, as they often play out, didn't see a whole lot of action from the women. Instead, the entire team felt like they were just thrown together for the sake of having a match and because they all might just happen to meet at Bound for Glory. In an attempt to find some positive, I will say that Sienna's backstage picking of McKenzie was fun and I'm enjoying the confidence she displays on mic and that Allie is being pushed more as a wrestler.
The Gail and Taryn didn't really do much to elevate their feud. There were personal taunts, responses and a brawl that saw Taryn retreat to the back. It just felt like something we've seen before already during Taryn's Dollhouse days, which actually a little more entertaining than what we saw this week. These are Gail's final weeks on Impact television and I just wish there was something a little more I could be invested in.
Finally there's the Taya/Rosemary feud. This feud has been about Taya making a name for herself in the Knockouts division since her arrival. This feud has also helped transition Rosemary into her new babyface persona – complete with a new look if I may add! Taya has been getting a lot of the last laughs in most of her segments with Rosemary (just like this week) but it's all building up to something taking place come Bound for Glory, where I hope Rosemary gets her retribution.
What did you think of this week's episode of Impact Wrestling? Have you been enjoying the Taya/Rosemary feud? How would you book the final weeks leading into Bound for Glory? Let us know in the comments below!