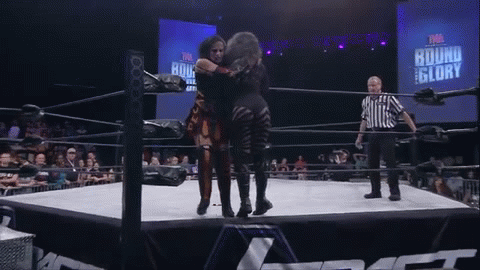 *Deep Sigh*  Well Knockout fans, we've made it to the final episode before Sunday's Bound for Glory – TNA's biggest show of the year; their supposed WrestleMania! Though there has been a lot of talk about Bound for Glory this week, it has been for all the wrong reasons with many raising concerns as to whether the show (and tapings afterwards) will take place at all. How ironic would it be for the last Impact Write-Up to go by the name "Road to Glory" and that the last episode of Impact Wrestling aired on my birthday of all days?
Despite all of this, Bound for Glory is still being heavily promoted and the latest reports suggest that event has been given the green light; which for now is of some comfort and great considering there was plenty of Knockouts action this week. Let's see what unfolded this week!
Impact kicks off with Jeremy Borash introducing fans to this special "Road to Glory" edition of Impact. During this go-home show, Bound for Glory main event players Ethan Carter III and TNA World Heavyweight Champion Lashley will compete in Lethal Lockdown; acting as leaders to teams of their choosing. Lashley handpicks an army of heels in Drew Galloway, Mike Bennett and Maria Kanellis while Ethan, as expected, selects his fellow babyface stars in Aaron Rex, Moose and Gail Kim. Basically, each team represents a big chunk of the Bound for Glory card. Let's go Team Ethan!
We step backstage to find Maria prepping herself up for ahead of the big Lethal Lockdown main event. Allie is standing by, looking to make amends after Gail foiled Maria's plans last week. The Knockouts champion refuses to take in any soft spoken apologies from Allie and instead, takes a chance to put down Allie again when presumably replacement Laurel Van Ness appears. Maria describes Laurel as a tall, beautiful and intelligent woman while simply referring Allie as stupid. Maria appoints Allie to be Laurel's personal ring announcer in her match against Madison Rayne and to do whatever she needs.
Our first Knockouts match of the night is next:
Madison makes her entrance but before she can finish up, Allie's voice fills the Impact Zone for Laurel's ring introduction. The bell rings and the debuting Laurel places out her left hand, requesting for Madison to kiss royally kiss it. Instead of a smooch, Madison distributes forearms and a running dropkick to Laurel, causing her to roll the outside ring for an unofficial time-out.
Instead of asking for a sip of water, Laurel wants Allie to powder her face so that she can look camera ready when re-enters the six sided ring. Laurel steps back to the match with a bit more confidence – chopping Madison across the face, choking her with the use of the second ring and scooping Madison up for a body slam.
Laurel goes for the pin, opting to cover Madison with a foot instead of the traditional cover but Madison kicks out. From there, Madison tries her luck at earning the three count through various pin attempts, including a swift Northern Lights supplex but all to no luck.
Laurel takes back control with an eye rake and runs the ropes to hit Madison with a running stomp to the head that puts Madison down for the three count. A big victory for the debuting Laurel Van Ness, not Vanness, Allie incorrectly announces. We can always just say LVN for short, no?
For our second Knockouts match of the night, we are treated to a dark promo from The Decay, who run down their list of victims that they've captured throughout time that range from Johnny, Senor Benjamin, Bram and The Broken Hardys.
Tonight, Rosemary will add Reby Hardy to that list, promising to make sure that she won't even make it to The Great War at Bound for Glory.
Rosemary makes her entrance accompanied by Crazzy Steve and Abyss with Reby being having the Hardys by her side. The bell sounds off and Reby takes off by hitting Rosemary with a spear. She then takes Rosemary on a trip around the turnbuckles, clocking her head at any nearby corner.
Rosemary fights back, taking Reby down with a clothesline and then licking over Reby's face? Well, Broken Matt does go around biting his foes, so certainly anything goes between these tag team right?
Reby avoids an oncoming attack from Rosemary, lands in some offense leading up to a Twist of Faith to be connected. Crazzy Steve jumps onto the ring apron and distracts Earl Hebner from counting the pin, distracting Reby along the way. When Reby turns her attention back to Rosemary, she is hit a black mist forcing a DQ.
All hell breaks loose as the men partake in an all out brawl throughout the Impact Zone. In between the chaos, Rosemary pulls and sets up a table which would eventually be used to drive Reby through! Rosemary enjoys the bump, shouting out DECAY, DECAY, DECAY!
Before we get to our Lethal Lockdown main event, McKenzie Mitchell sits down with Maria and Gail to discuss and air out any final thoughts they may have about each other before squaring off Sunday.
The Knockouts were our final entrants to Lethal Lockdown but never actually got involved in match. Instead, Gail chases Maria inside and outside the ring but Sunday, there will be no escape!
Thoughts: Wow so a lot of Knockouts action to cover.
Starting off, I am glad to see LVN back on our screens again. Whenever a new face enters the division, they bring a freshness along with them.
Her match against Madison was a bit better this time around when compared to her gauntlet match from two weeks ago, that saw a couple moves from LVN that didn't fully connect. There were definitely these spoil mannerisms coming off from LVD throughout the match and even afterwards. My only gripe continues to be the lack of time given to them.
The pre backstage segment showed just hints a feud between Allie and Laurel and should TNA be able to live on, I would like to see this feud kick off as I long to see Allie be used to her full capacity. Am I the only who sees a physical resemblance between these two?
The table spot helped make up for some of the weak points in the Rosemary/Reby match. Considering this was Reby's first match in nearly two years, it isn't as though there was much to expected; more so when the true payoff will come during The Great War match at Bound for Glory. There still aren't any clear answers as to how or where this match will play out but if it is something outside the Deletion match, then I can imagine some sort of Monsters Ball feel to it. I fully expect the Hardy clan to walk away with the tag team gold but let's see if/how the women will play into the match.
Finally, the Knockouts title picture: This was probably as close as to Gail has ever physically gotten to Maria. Come Bound for Glory, this nine month feud will finally see these two go at it.
If I am honest, there is a bit worry that this match won't be as entertaining as it should be, given Maria's lack of time competing in the ring but I hope that I am proven wrong, as was the case when Gail feuded with Brooke and Taryn.
TNA may not have been the perfect company, and yes they have made plenty of mistakes overtime, but it would be a shame to see them close their doors after many memories for women wrestling fans to hold on to as well a place for more wrestlers to work. I'm starting a praying circle for you TNA!
What did you think of this week's episode of Impact? Are you excited for Bound for Glory? Let us know in the comments below!