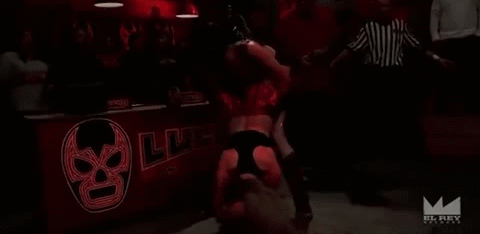 #CelebrateWomen's wrestling with the FULL #NoMás Match b/w Sexy Star & Mariposa from this week's #LuchaUnderground! https://t.co/rK37p246ad

— Lucha Underground (@LuchaElRey) May 5, 2016
Talk about an unexpected blinder of an episode! Last night's Lucha Underground showed Catrina at her finest, lashing that wicked tongue of hers on more than one occasion. The main event was a rare Luchadora vs Luchadora match between Sexy Star and Mariposa – a rematch from a few weeks ago. This time not only is an Aztec Medallion on the line, but it is also a No Más match, The Temple's version of an I Quit match. Get the popcorn ready!
Catrina opens the show, paying a visit to Dario Cueto's office. She tells him that his brother Matanza was lucky to make it out of his match against Mil Muertes with his title a fortnight ago. Dario says that "his" is the keyword, the belt doesn't belong with Mil and Catrina. Catrina demands a rematch, and Dario proposes Grave Consequences, Mil's signature match. Catrina accepts but Mr Cueto isn't finished. So confident in his brother's abilities, he ups the anti. This match will be Graver Consequences with four caskets instead of one. Not sure how that affects the match, but I'm chomping at the bit to see it. Catrina better watch out – with all of those coffins around, one could have her name on it!
Catrina is seen lurking backstage again shortly after, and this time she has a verbal tango with King Cuerno. King will be facing Catrina's final disciple later in the night. Cuerno says that he will win an Aztec Medallion and the Gift of the Gods championship. He would then love nothing more than to cash it in on Mil he says. Catrina isn't phased by his bravado, and smirks as he walks away.
Dario Cueto welcomes another Luchadora into his office next. Sexy Star slowly walks into the room, looking petrified and a shell of herself. Dario notes that he has seen the difference in her and the change in her eyes. He has seen eyes similar to that years ago, when he looked in the mirror. He said that his mother was like Mariposa, an evil bitch.
Dario books the main event, a No Más match. He fires Sexy up, telling her to torture Mariposa even worse than she abused her. And once she makes her surrender, don't stop. Things just took a majorly dark turn… and it was epic.
Cuerno's match is next on the card, and of course, the one Disciple of Death who murdered the other two was the one with the bloody long name. Siniestro de la Muerte wins an Aztec Medallion, proving to Catrina she was doing the right thing keeping him around. It also had most to with Catrina for interfering. He might still be a useless pleb. Anyway, yay for the win. Nay for me having to type his name out every week.
Beautiful Brenda is the next female in the limelight, and someone who I have accident my ignored in recent weeks. The manager and business partner of a revamped Famous B, she accompanied him to scout a potential new client they want to make famous in Mascarita Sagrada. Things didn't go well for Brenda's little marshmallow, who was obliterated by Cage. Things didn't go much better for Cage, who got his newly-won medallion stolen by Chavo Guerrero.
Finally, it's time for the main event. Sexy Star looks to get revenge on the woman who abused for months while Lucha Underground was off the air between seasons. Can she get retribution or will Mariposa's might prove too much?
Thoughts: The crowd were not wrong when they chanted HOLY SHIT. Wow. That match was absolutely incredible. It had all the ingredients of what makes wrestling amazing for me. It has solid in-ring action, crazy intensity thanks to the girls climbing up to the lighting rig, insane hardcore spots (those chair shots between the legs!) and it was all backed up with a phenomenal crowd and elevated by a superb, personal feud. The blood didn't hurt either. This was fantastic.
Mariposa is a tremendous worker. Those intricate submissions she was pulling out like the modified Indian death lock were stunning. Her brutality with the chairs, railings and walls and then the announce table helped you buy into the fact that this woman could f*ck you up.
Sexy most certainly got the daylights kicked out of her. My god, the amount of blood was harrowing to watch, but it made you get behind her all the more. Coupled with the crowd reaction, outstanding commentary and her spot on mannerisms and expressions, I was 1000% behind Sexy. That is how to be a good babyface!
Key spots in the match for me were the dangling from the rafters, the announce table bashing, the delicate chair shot to Mariposa (can you imagine how that would feel?!) and then of course, Sexy screaming "FFFUUUUUUUUUUCCCCCKKKK YOOOOOUUUU!" I got my life! This is by far the best work I have seen from both ladies and I couldn't be more pleased for them. People will be talking about this one for years to come.