The NXT UK brand hits a milestone this week with its 200th episode. Since its inception in 2018, the red and black brand has been home to some impressive women in the ring, including Main Roster talents such as Doudrop and Rhea Ripley. NXT UK also saw the rise of the Forever Champion, Kay Lee Ray now-Alba Fyre, who recently made her re-debut on this week's NXT 2.0.

Speaking of NXT 2.0, in recent weeks we have seen stars from the brand come over to the UK counterpart and the women have been represented by Lash Legend and Ivy Nile. Last week Lash issued a warning to the locker room and this week she continued to endear herself to Emilia McKenzie by interrupting her interview. Not impressed, Emilia calls out Lash for being all talk but Lash Legend has no time for her and walks off.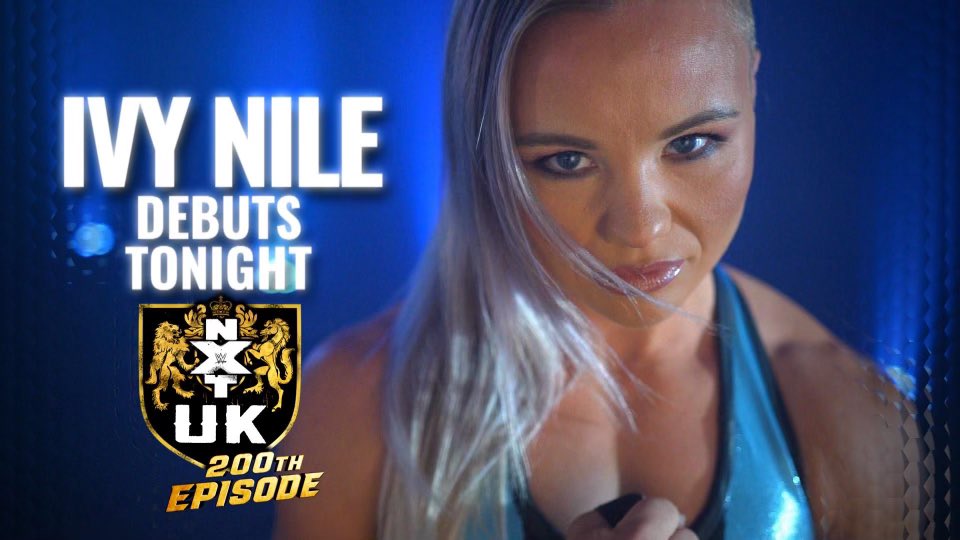 A woman who understands the history of NXT UK is the woman who appeared in episode number one.
We saw last week that Nina Samuels was less than impressed by the Pitbull, Ivy Nile, and a match was confirmed for this week. The NXT 2.0 star receives a warm welcome from the UK crowd and the match starts with a familiar site of Nile physically overpowering her opponent. Nina is unfazed and insists that she is strong too and we get a brief flex off before the pair exchange a series of holds.
A series of dueling chants start in favour of both Nina and Ivy as Nina uses the ropes and Ivy's hair to gain the upper hand. Nina keeps control with a series of submission holds and a snapmare but Ivy soon breaks free and utilizes some of her taekwondo offence to leave Nina stunned. The pair battle into the corner and Ivy ascends to the top rope only to receive a vicious slap across the face.
Enraged, Nile grips Nina into a dragon sleeper from the top rope and flips over, crashing Nina's face into the mat. Without releasing the hold, Ivy gets to her feet and brings Nina with her, tightening the hold and forcing Nina to finally tap.
Authors Take –
It is clear that Lash Legend and Emilia McKenzie are on a collision course and it's a match I am looking forward to. The pair excel in something I think the other truly needs. Lash exudes personality and mic skills while Emilia performs to a consistently strong standard in the ring. That's not to say Lash is bad in-ring or Emilia lacks personality, I just mean I think the two can really help one another. I am a fan of both.
Nina vs Ivy was a short match but it delivered on what it had to. Ivy has effortlessly managed to get the NXT Universe behind her and I'm not sure if it was even intentional.
My last thought is about the Amale vs Brookside/Alexander feud. That's been the second week without anything happening between them. NXT UK could do with some consistency on their booking and really capitalize on the momentum of Amale's popularity and Eliza's recent debut but understandably, the NXT 2.0 stars and the conclusion of Meiko vs Dawn has taken priority.
What did you think of Nile vs Samuels? How do you feel about a Lash vs Emilia match? Let us know in the comments!