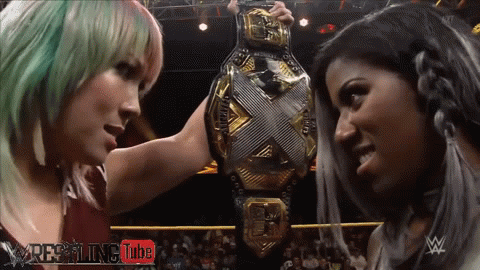 Hola NXT fans and welcome to this week's NXT Redux! Yes, it's SummerSlam weekend where we'll witness two Women Title matches take place but let's not forget that we also have NXT TakeOver: Brooklyn III to look forward to! As it was announced last week, the NXT Women's Champion Asuka and her challenger Ember Moon will make their match official with a contract signing just days before they square off at Saturday's big show.
Our show opens up with NXT GM William Regal in the ring, introducing both Asuka and Ember Moon.
Before she signs the contract, Ember grabs the microphone to take a moment to praise Asuka's incredible journey in NXT. She runs down some of Asuka's achievements which include holding one of the most dominant championship reigns in NXT WWE history, defeating some of the best female Superstars and of course, surpassing Goldberg's undefeated streak. Cue the Asuka chants!
Even with all of this, one thing that sticks out to Ember is that the only time Asuka has ever had to shortcuts in her reign was with her. We're reminded of TakeOver: Orlando where Asuka pushed a referee to defeat Ember and weeks leading up to TakeOver: Chicago when Asuka injured Ember so she wouldn't be able to compete in her scheduled Women's Title match. In closing, Ember thanks Asuka for taking these shortcuts as she is now more determined to end Asuka's reign of dominance and become the NXT Women's Champion!
After the contract is signed, Asuka grabs her mic, sternly yells at Ember Moon in Japanese ending with a fierce stare down between the two competitors!
This week's of NXT also features a small match-up between Billie Kay with Peyton Royce taking on Ruby Riot after the latter 'ruined' the Iconic Duo's Make-Up tutorial video.
The bell sounds off and things are off to an evasive start as Billie manages to dodge some of Ruby's grapple. Peyton tries to provide a distraction from the outside but Ruby is ready and manages to roll up Billie from behind. Billie kicks out and after attempting two more covers, Ruby has some fun and mocks the Iconic Duo, causing Billie to throw a mini tantrum.
Billie whips Ruby to the ropes and connects a clothesline for a two count. She follows up by sending Ruby to a corner and stomps her down to the floor. When the women meet back at the center of the ring, Ruby begins to fight back with forearm strikes to Billie. Ruby runs the ropes only to fall into an Eat Defeat from Billie upon arrival. Billie goes for the cover but Ruby kicks out at two.
Ruby mounts another comeback, landing a variety of kicks. She runs the ropes once again and connects a dropkick that takes Billie down. When Peyton tries to interfere from the apron, Ruby knocks her off with a running kick.
When she turns her attention back to Billie, Ruby connects a Pele Kick that puts Billie down for the three count. Ruby Riot is your winner!
"@RubyRiotWWE you will NEVER be #Iconic!" – @WWEPeytonRoyce #WWENXT pic.twitter.com/cDToHDNUnH

— WWE (@WWE) August 17, 2017
Post match, Peyton Royce grabs a mic and tells Ruby that all she has done is prove lightning strikes once. Peyton throws in some insults by calling Ruby a 'gross tattooed loser' and the she'll never be Iconic.
Thoughts: For me, Billie and Peyton are NXT's 'go-to' girls whenever there is a want/need to give a babyface some momentum or sympathy. They're both easy heels to hate, can work matches and can swap out their roles as competitors/managers.
This match with Ruby wasn't the strongest and there wasn't a lot to take from it other than Ruby getting the last laugh from the Iconic Duo's trickery. Echoing my thoughts from last week, one thing I'd like to see down the line between these three women is the chance of brining in someone to team up with Ruby to even the playing field? Perhaps one Dakota Kai as some have suggested to reform 'Team Slap Happy'?
On to the title picture, there is so much excitement heading to this match at TakeOver: Brooklyn III! Both these women are extremely talented and I'm confident that they can steal the show!
Asuka's reign as NXT Women's Champion has been something special to witness in this modern age of wrestling. She's already the record holder of the second longest reigning Women's Champion in WWE history and, personally, I would actually hold it over The Fabulous Moolah's reign because let's be real, no one is ever going to break that damn record! Male or female!
While this contract signing didn't end with traditional brawl or a table flip (which I find to always be fun), I'm glad it gave Ember the chance to show that determination in wanting to dethrone Asuka after some rough bumps in climbing back to the title picture.
Asuka carries herself as an arrogant champion with the skills to back it up! Sure there's a language barrier but I think Asuka's ring skills well make up for it. I'm still trying to sort a prediction as to who will walk out the title at the end of TakeOver.
Part of me wants to believe with all the milestones that Asuka has achieved, now would seem like a chance to put the title on someone else but the WWE have really been tuning to Asuka's dominance in the Women's division since her debut so I wouldn't be surprised to see if they keep the title on her just a little longer.
As they say, time will tell!
What did you think of this week's episode of NXT? Are you excited for TakeOver: Brooklyn III? Do you think Ember will be the one to dethrone Asuka? Let us know in the comments below!