The NXT UK Women's Championship has seen four total champions since the title's inception in 2018. Rhea Ripley, Toni Storm, Kay Lee Ray, and now Meiko Satomura. These four women have spearheaded the often overlooked division based in the UK.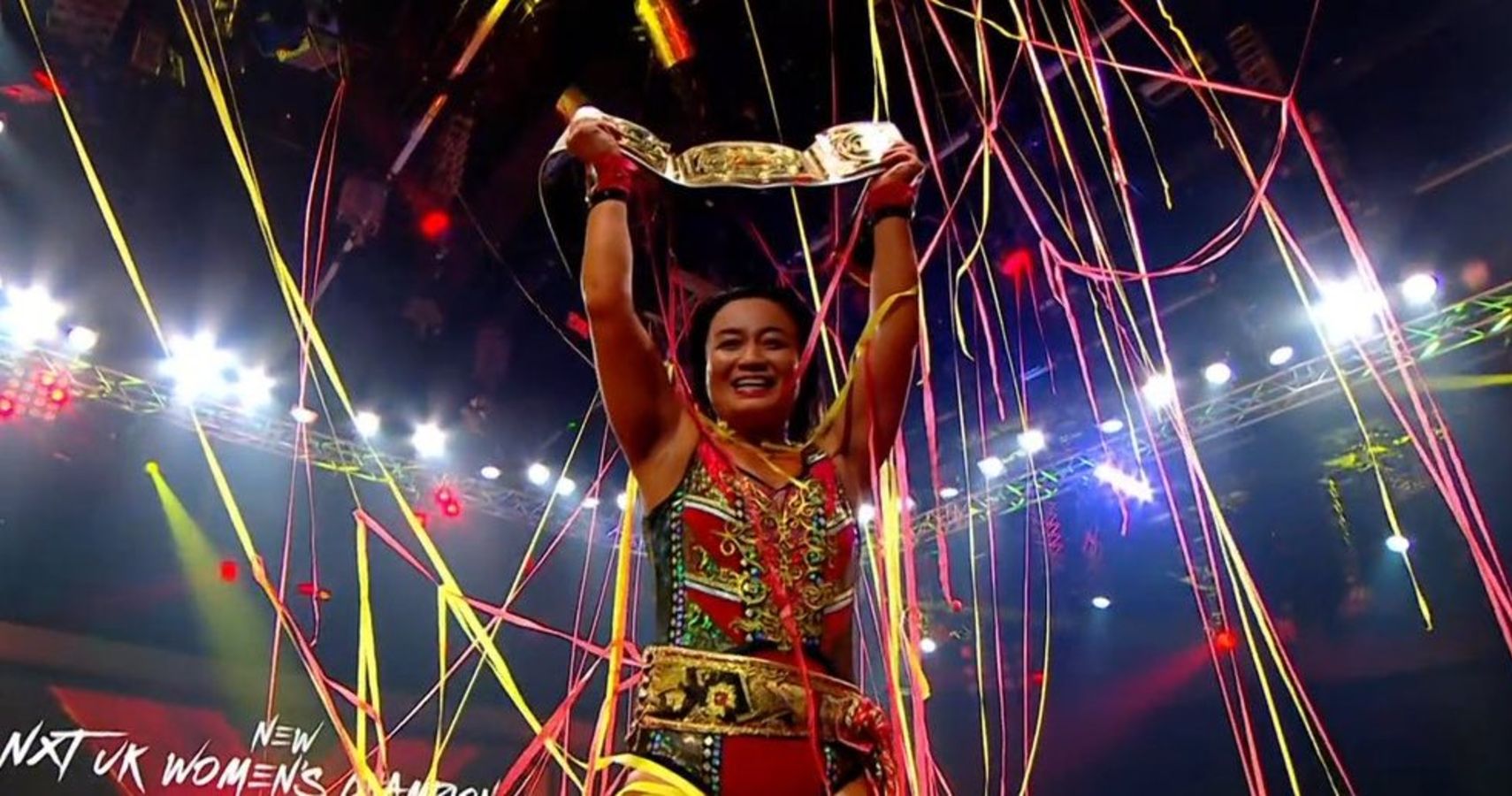 The current champion, Meiko Satomura, has held the title since June 2021 and has defended the title numerous times against various members of the roster. Amale, Xia Brookside, Blair Davenport, Stevie Turner, and Jinny have all tried and failed to overcome the Final Boss.
It seems Isla Dawn is next in line and while the date of their confrontation is not yet known, one can wonder who will be the individual to end Meiko's reign. On this week's NXT UK, Dawn continued to prepare herself for the biggest match yet of her career in WWE.
Let's take a look at the potential future challengers if NXT's resident Hex Girl's tricks don't bring her any championship gold.
#5 Amale
Amale was the first challenger to step up to Meiko Satomura back in July. Back then, she did not have the NXT UK Universe behind her as prominently as she does now. Starting in December, Amale began sharing her journey to the WWE and thus the French Hope was born. Her story of overcoming adversity touched the hearts of many while drawing the ire of others. Amale has faced off against the likes of Jinny, Nina Samuels, and Stevie Turner, each of them expressing doubts or ridicule to the first French female superstar of the WWE.

Minus a recent loss to Jinny, Amale has been enjoying new success in the ring and it is clear, this is not the same Amale that faced Meiko Satomura last July. If the two were to meet in the ring again, the outcome might not be the same.
#4 Emilia McKenzie
Since her return to NXT UK, Emilia's relationship with Meiko Satomura has been built as a protégé/mentor, with Emilia often serving as a warm-up match of sorts to those wishing to face the Final Boss. She may be the youngest member of the roster but Emilia's strikes and her in-ring presence lends itself to the experience of someone several years her senior. Other than competing in a gauntlet match last year, Emilia has yet to make a direct line for the championship as of yet.

Who better to defeat the Final Boss than the person learning directly from her?
#3 Jinny
You cannot discuss the NXT UK roster without talking about the fashionista herself, Jinny. One of the most prominent talents of the Women's roster since the brand's debut, Jinny has challenged three of the four champions without success. In spite of this, she has been featured almost regularly in side feuds against Aoife Valkyrie and Amale. Jinny is arguably one of the strongest mic workers across the entire WWE and while promos are not Meiko's strength, Jinny has the talent and charisma to carry a feud with the Final Boss.

After a couple of partnerships that did not lead to much for Jinny, it's surely only a matter of time before she takes her rightful place atop the division.
#2 Blair Davenport
Watching Blair's injury happen made for some uncomfortable viewing and happened right as she seemed primed to take the title away. Davenport's booking on the brand has been one of the most intriguing by her ruthlessness and lack of real interest in a fair match. The way Blair has assaulted her opponents either before the match even begins or after to add insult in injury, sets her apart from her fellow superstars with a vicious streak. In the weeks before her injury, we learned more about Blair and the importance of her heritage as a Davenport, giving another side to the character.

There is currently no word on Blair's return schedule but there is no doubt that she is highly motivated to return and begin round three with Meiko Satomura.
#1 Aoife Valkyrie
As excited as I am to see a fellow Scot [Isla Dawn] compete for the Women's title, I must admit that when the lights went down during Meiko Satomura's celebration last week my first thought was that Aoife was finally returning. After an incredible match against Jinny, that Aoife persevered and won, it was confirmed she had suffered an injury and would be out of action.
We have not seen Aoife since the 26th August episode of NXT UK, hopefully she will be healed up soon and ready to return with an impact. What better way to make a statement than to go straight to the top? Let's not forget that Meiko handed Aoife her very first loss in the NXT UK Women's Division.

With only two losses on her record, Aoife is a strong contender to challenge Meiko Satomura even with considering her time away. A future title match between the two would easily be added to the top matches of the division, if their previous encounter was anything to go by.
Who do you think will topple Meiko Satomura? Will Isla Dawn claim her newest accessory in the coming weeks? Let us know in the comments below!