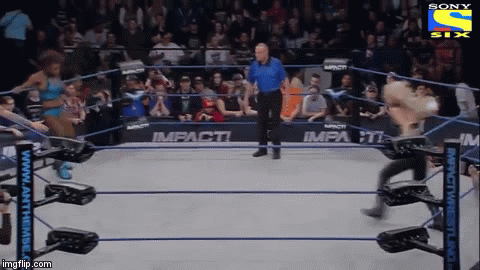 Hola Knockout fans and welcome to another edition of Xplosion Write-Up! Please excuse this two week delay as I'm trying to play catch-up a bit on some of the Knockouts action that I've missed on Impact's secondary show! On this Xplosion Write-Up we'll take a look at a Knockouts tag team match that sees Angelina Love and Laurel Van Ness take on ODB and MJ Perkins!
Making her way to the ring first is Angelina Love being accompanied by her husband Davey Richards. Just to throw it out there: I think they look really hot together! Angelina stops halfway down the entrance ramp and goes backstage? Ah, Angelina is just heading back to help escort her tag team partner down the ring! The Broken Bride has a bottle on-hand and offers Angelina a sip but Angelina declines the offer.
Angelina and Davey complete their couples entrance while Laurel tries to mimic hanging on the ropes but stumbles instead. The team of ODB and MJ Jenkins are out next, sharing an entrance and the bell sounds off. The crowd is hot for ODB but starting things off are Angelina and MJ, who already had a bout on a previous episode of Xplosion.
Angelina starts off with knee shots to MJ's midsection and then whips her to the ropes. MJ counters with an arm drag upon return. MJ applies a grounded arm wrench but Angelina gets to her feet and pulls MJ to a corner. Angelina kicks MJ in the midsection and whips across the other side of the ring but MJ reverses this.
From the ring apron, MJ headbutts Angelina in the midsection and leaps to the top ring rope for a springboard dropkick! Laurel decides to tag herself in, much to Angelina's objection, but gets rolled up from behind that earns MJ a two-count. MJ goes for another cover but Laurel continues to stay alive.
"That was close." yells out Laurel as Angelina tags herself back in the match. Angelina barks at Laurel and MJ tries her luck at rolling up Angelina for the three count but to no success. MJ whips Angelina to the ropes but Angelina reverses this and sends MJ directly towards Laurel, knocking her off the ring apron. MJ takes a quick look at the fallen Broken Bride but when she turns her attention back to Angelina she is hit with a running clothesline. We head for a commercial break.
Upon returning from the break, Angelina is crawling towards her husband and gives him a smooch. Laurel decides to tag herself in the match again, claiming that she's got this and that Angelina can continue to kiss her husband. Laurel avoids a charging corner attack from MJ and causes her trip. She goes for the cover and earns a two-count, although she believes she has already won the match for her team.
Angelina tags back in via slapping Laurel's arm. She whips MJ to the ropes and goes for a forearm which MJ ducks. Both Knockouts run the ropes and suddenly hit one another with a running face crusher that takes them both out! Both Knockouts are down, setting up for a hot tag scenario.
ODB and Laurel are tagged but ODB dominates early on, taking Laurel down with a shoulder tackle and a fallaway slam. Angelina makes a run-in to ring but ODB catches her and tosses her to a corner turnbuckle. ODB proceeds to stack Laurel towards Angelina, attacking both of them with a running splash and then a Bronco Buster.
Angelina rolls to the outside as she has had enough of "winning" with Laurel. She slaps Laurel and begins to walk away from the match. ODB seizes the opportunity and hits the TKO on Laurel for the win. Even in defeat, Laurel raises her bottle of champagne but ODB takes it and finishes it off. In response, Laurel snatches ODB's flask and helps herself to a drink. Oh what the hell, she sees Earl in her view and makes out with him. What is it with Impact and their ideas of Earl's interactions with the Knockouts? Cheers everyone!
Thoughts: I don't think it is often that we see Knockouts tag team action on Xplosion, so this had a different feel to the singles match-up that we're accustomed to.
I'm glad that we got to see more of MJ here as she is one of the newer names to the Knockouts division. Much like her singles match with Angelina, I think MJ has presence in the ring and I would love to see her make a splash on Impact's main show! Maybe with Sienna and Laurel teaming up against Allie at the moment, we can have MJ come in to even the playing field?
Through and through, this match felt more comical than competitive thanks to Laurel's gimmick, which isn't a bad thing as this is Xplosion where there tends to be more tolerance for it. While I'm not a complete fan of Laurel's Broken Bride character but she makes it work here. She came across as a hot drunken mess all around to the point that not even her own tag team partner could stand by her side. Angelina is a total bad-ass and has been really pairing well some of the newer names that have come to Impact.
What did you think of the match? Are you enjoying Laurel's 'Broken Bride' gimmick? How would you book MJ onto Impact's main show? Let us know in the comments below!