Hello and welcome to another edition of NXT UK!
In recent weeks, NXT 2.0 has been crossing the pond and challenging their male and female counterparts. Following in the footsteps of Ivy Nile and Lash Legend, NXT 2.0 stars Sarray and Fallon Henley made their first appearances last week with Sarray getting the win. Can Fallon do the same?
But first, a long anticipated return: the self proclaimed heir to the NXT UK Women's championship, Blair Davenport, is back and she intends to pick up where she left off.
The match sees Angel Hayze getting in a surprising amount of offence against the returning Davenport with several near falls. Davenport is caught off-guard several times by Angel including an impressive sling blade and Angel escaping the Falcon Arrow. Blair hits a beautiful front dropkick from the top rope and that seems to spell the end but in a shocking display of resiliency her opponent breaks loose. Angel only buys herself a short reprieve however as Blair hits the inevitable and secures the pinfall.
The second match to feature the women was set up by Meiko Satomura as a test of some kind for Emilia McKenzie. Both women going in to the match have their own reasons for wanting to win. Emilia to impress Meiko and Fallon to carry on the momentum of her friends Brooks and Jensen.
The match starts as a typical face vs face affair with clean cut wrestling. Emilia is an incredible performer and consistently delivers strong matches. I am not too familiar with Fallon's work but she keeps up with Emilia throughout this match and the two could both win at any time. Throughout we start to see some cracks in the façade of Emilia however as frustration clearly sets in, perhaps the pressure of Meiko Satomura is closing in? Locking Fallon in to a modified cobra clutch, Emilia's expression turns dark and the ref has to repeatedly check if the NXT 2.0 star wishes to continue since she cannot tap out the traditional way.
Fallon powers through and hits an impressive facebuster but Emilia continues to stay on top of her, sending Henley into the corner. Jumping over Emilia to dodge her causes Fallon to tweak her knee and this is where Emilia strikes, targeting the leg repeatedly, starting with a powerful spear out of the corner. It is perhaps this tunnel vision that costs Emilia because Fallon is able to slide out of a move and capture the 3 count in a surprising twist.
After shaking hands and hugging her competitor, Emilia was approached backstage where she alludes to showing a 'killer instinct' and acknowledges it didn't get the job done. Undeterred, Emilia vows to keep training with Meiko to improve herself.
Speaking of training, the NXT UK cameras caught up with Sarray to discuss her victory over Nina Samuels but we are promptly interrupted by Xia Brookside and Eliza Alexander who tried to intimidate Sarray. Our NXT UK Women's Champion, Meiko, and Emilia McKenzie appear to defend their guest and Meiko issues the challenge to meet Xia and Eliza in the ring in a tag match with Sarray.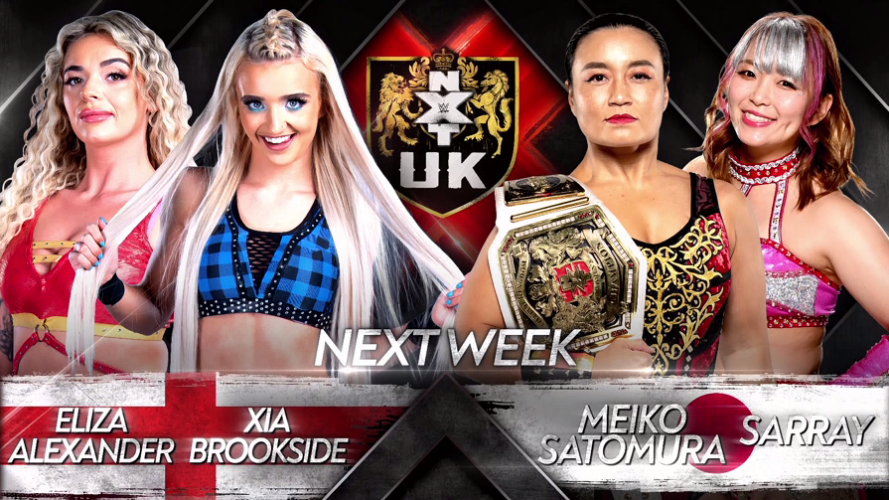 Authors Take –
Emilia McKenzie… welcome, we've been expecting you! I know Millie has a lot of supporters here and it's easy to see why but it's no secret I personally find her character work lacking but tonight she was the star for me. Her expressions during the match with Fallon just tell me she is born to play a heel character and can be a dominant force.
While the return of Blair Davenport and her desires for the gold may not leave a place for a heel Millie when it comes to the title, a feud against Meiko wouldn't need to involve the championship. And clock the reaction that Millie has when Meiko announces she will tag with Sarray against Xia and Eliza!
The matches were at the usual calibre we've come to expect from this brand. I think I personally would have booked Blair just slightly more dominant for her return, but she still made an impact and the NXT UK crowd have not forgotten what she's capable of.
Fallon Henley also impressed me in her match, I need to familiarize myself with her more as I like her look and her energy, in the ring she can go as well.
Are you excited to see Blair Davenport back? How would you book a heel Millie? Let me know in the comments!