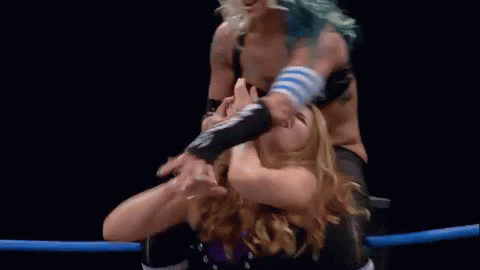 Hola Knockout fans and welcome to this week's Impact Write-Up. As seen last week, Sienna was on the hunt for the GFW Women's Champion after Karen Jarrett broke the news that both Impact Wrestling and Global Force Wrestling would be merging into one company. Global Impact anyone? Sienna gets her wish as the GFW Women's Champion Christina Von Eerie is scheduled to defend her title on this week's show!
Sienna wastes little time finding Mrs. Jarrett backstage with questions as to where the "alleged" title holder of the GFW Women's Champion is. Mrs. Jarrett invites Ms. Sienna to pull up a chair as Christina Von Eerie will be in action very shortly. In addition, Sienna should take some mental notes as Karen also announces that next week, it will be Sienna's turn will square off against CVE.
And who is CVE's opponent? Why it's none other than Ava Storie! So, is there a reason behind Ava suddenly becoming the number one contender to the GFW Women's title? Was a random name pulled out of a hat from the back? Sigh Let's just bring out the champion.
CVE comes out and proudly raises her GFW Women's title in the air before handing it over to our acting referee Earl Hebner to get this title match started.
The bell sounds off and an evasive Ava tries to call for an unofficial time-out, which lasts for about ten seconds. CVE kicks Ava in the mid-section and takes her down with a snapmare. The GFW Women's Champion lands in some more offense, delivering kicks to Ava's back and running the ropes to connect a big boot.
CVE scoops up Ava over her shoulders but she is able to escapes by raking CVE's eyes. Ava then grabs a handful of CVE's hair and throws her down to the mat. After a few punches to CVE, Ava side slams the champion and goes for the cover.
CVE kicks out, which angers the rookie Knockout and causes her to pick an argument with Earl. CVE turns the attention back to action with a chop, forearm and snapmare combination to Ava. A series of headbutts follows next and towards the end of the match, CVE is able to trap Ava in a corner and hit an elevated back stabber that puts Ava down for the three-count. CVE remains your GFW Women's Champion!
Post match, in an Impact Digital Exclusive, CVE refers to Ava as "the first little obstacle" she had to face and makes mention of setting her eyes on the Knockouts title next. Hardly an obstacle if you ask me.
We move on to a very well put together hype video package documenting the heated (and currently my favorite) feud between Davey Richards/Angelina Love and Eddie Edwards/Alisha Edwards.
Angelina is at ringside for Davey's Grand Championship match against current title holder Moose, who has DeAngelo Williams and Gary Barnidge in his corner. The match ends in DQ when Eddie Edwards (sans Alisha) runs in to brawl it out with his former tag team partner.
Other Knockouts serving as ringside managers this week are Laruel Van Ness and Sienna as their 'Unleashed Fury' Kongo Kong wins another squash match, this time against Matt Sigmon.
And making appearances on this week's main event tag team street fight between The Decay and LAX are Rosemary and Diamanté respectively. As expected, Rosemary tried helping out her team midway throughout the match by blinding Ortiz with a mist but this backfired when it hit Abyss instead. Diamanté took care of Rosemary from here and in the end, LAX were able to retain their Tag Team titles via blockbuster through a table on Crazzy Steve.
Thoughts: For the first ever GFW Women's Title match taking place on Impact Wrestling, this match was pretty flat.
One of the issues I had going into this match was seeing Ava announced as the challenger for the GFW Women's Title match, I mean how random is that? This isn't a dig to Ava, as she was clearly brought in to these Impact tapings to serve as a generic babyface and/or heel talent enhancement, depending on the week.
I'm still not sure of what Ava's official status is with the company but if she is signed, I hope to see an improvement in her ring work as some of her offense here was a bit awkward. I did like CVE's finisher and she showed spunk in her introduction video. With CVE now signed to Impact, I hope we get to see more from her than we during her first short-lived run with the company as Toxxin.
Maybe it's just because I haven't exactly followed GFW throughout the years but I'm not completely sold on the GFW Women's Championship. If there are any GFW historians reading this, please fill in on the history behind this title!
With all this talk of unifying the Knockouts Title and the GFW Women's Title, I can only assume that the purpose behind the latter being brought to the spotlight is for Impact to introduce a new Women's Championship for their division in the near future. Or at the very least, a newly designed Knockouts belt, since the current belt still carries the "TNA" logo which is a tag that is being phased out of history.
As far as The Decay's final dance, I'm sad to see the group end. I've been a fan of the team since they first came together and truthfully, they have been one of the hottest acts Impact has had in years. I'm not too worried of what will happen to Rosemary with the group parting ways, as I've always seen her as the star of the group. So on that note, thank you Crazzy Steve for all the memories, dating back to the Menagerie days and good luck to whatever is comes next!
What did you think of this week's episode of Impact? What are your thoughts on the chance of the GFW Women's and Knockouts Title unifying? Will you miss The Decay? Let us know in the comments below!