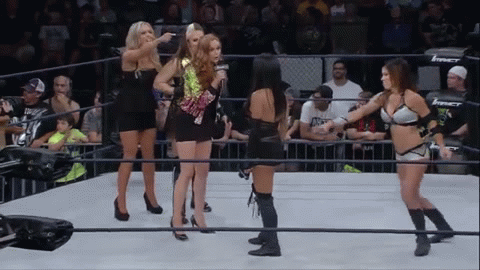 Hola Knockout fans and welcome to this week's Impact Write-Up! TNA has moved back to Thursday nights for the first time in nearly two years and though they are now on an hour earlier, there are still plenty of Knockouts to look forward to. Sadly, the women of TNA are out of a match this week, as the leader of the Knockouts Maria Kanellis has ordered a meeting to address the "State of the Knockouts". Let's take a look at what issues the First Lady of Professional Wrestling has to address.
Before we get to our Knockouts action, Madam Dixie Carter makes an appearance from a safe location backstage. She appears on the big screen to halt the chaos between TNA World Champion Lashley, X-Division Champion Eddie Edwards, Miracle Mike Bennett and his newest recruitee Moose. So, he can keep his name but the likes of Sienna and Allie can't? But that's a discussion for another time.
Dixie tells her champions to focus on their title versus title match and informs Bennett that he is up first for this year's Bound For Glory playoffs! Let that Bound For Glory feeling sink in now Knockout fans!
Speaking of the Bound For Glory playoffs, "Broken" Matt Hardy manages to get an early win during his match against James Storm, thanks to wife Reby Sky hitting a cheap shot with her trusty hammer. No diaper bags required this time!
Our Knockouts segment of the night is next! As we take a listen backstage, we find out from Maria that it was actually Dixie Carter who is pushing for the address of the Knockouts division to happen. Maria is not too happy of having to deal with Dixie yet again, more so knowing that the TNA President is threatening to fire her husband as well. Maria's apprentice Allie suggests that Maria cool off by trying some meditation. Allie even throws in some calming humming but Maria respectively declines on the meditation course and heads out to the ring.
Present for this little Knockouts get-together include Gail Kim, Jade, Marti Bell, Madison Rayne, Allie and the Knockouts Champion Sienna. Not present (although they should be if this is addressing the entire Knockouts division) include Reby Sky, Rosemary, Raquel, Rebel, and new Knockouts signee Chelsea Green.
Allie has the honor of introducing Maria to the ring and upon entering, Maria lets out a heart felt apology to anyone she may have unintentionally belittled. Looking at you Gail. Maria then opens up the floor for any questions the Knockouts may have on their minds and, right away, the four hands of Allie, Madison, Jade and Gail go up.
Allie asks who Maria how the Knockouts can be more like her, to which replies that is simple as believing in her vision. Moving on to the harder hitting question, Jade steps in and asks why she hasn't received her one-on-one title rematch against Sienna! Very good question Jade!
Marti answers Jade question by latching out at her, telling her that she screwed herself out of rematch. Our next question comes from Gail, who is still itching for her match against Maria. Gail tells Maria to stop making excuses of injured body parts and brush off the fear that lives within her.
Maria assures Gail that she isn't scared of her and tells her that she is already going to the TNA Hall of Fame, there is no need for the focus to be on her. On top of that, Maria reminds Gail that she lost to Sienna twice already; it is time to allow other women to have a chance. Why am I suddenly finding myself applauding for Maria?
Gail is taken back by Maria's accusations of being selfish and insists that she respects everyone in the Knockouts locker room- well, everyone but Maria and Allie. Maria then offers a proposition to Gail: if she can beat every Knockout in the ring, then she'll get another shot at the Knockouts title. On the flip side, should Gail lose, then there will be Knockouts title opportunity in Gail's future. Imagine that for a second. In addition, if there happens to be a woman who can stop Gail, they will be rewarded "handsomely".
A rebellious Jade opts out of Maria's bounty hunt game and ends up brawling up with Marti, who taunts her former DFF for continuing to take the easy path of "running away". In the midst of word exchanges between Maria and Gail, Madison Rayne sees an opportuninty to attack Gail from behind and lay her out in the middle of the ring.
The newly turned Madison tells Gail that this isn't personal but rather, a step in which they all need to look after themselves. Madison mouths an apology to Gail as she leaves the ring.
Fear not Rosemary fans, as our favorite Death Dealer does make an appearance outside the Knockouts segment. Away from her usual partners in crime Crazzy Steve and Abyss, Rosemary meets with Bram before he competes in his Bound For Glory playoff match against Drew Galloway. The pair share a tender moment and passionate kiss.
Thoughts: This week's segment left me with more questions than answers.
The mention of Dixie prior to the ring segment makes me wonder if Maria will be juggling two feuds at once, that between Gail and Dixie. Another valid question that was brought up is that of Jade getting her title rematch clause; though it is worth TNA have never been to good with granting those either. I just wish there was validation for Jade as she was the champion up until before Slammiversary, where as Gail was thrown in due to Maria's injury.
Though I do enjoy Madison's Heel character over her babyface one, this turn just doesn't drive that excitement in me, simply because it feels like it was done more so as a means for Gail to begin her "quest" for a Knockouts title shot again. It has been announced, there will be a match between Madison and Gail next week.
With that in mind, my biggest fear is that Gail overcome Maria's plot of defeating every woman for a chance at the Knockouts title. I understand that Gail is going to the TNA Hall of Fame this year and there is this desire to polish her strong for the ceremony but I just don't think does any favors for any of the Knockouts if they're losing to the same woman. Though I am a bit doubtful about it, I do hope we see some swerve happen from one of the other Knockouts not featured in this "State of the Knockouts" segment.
A brief mention of Rosemary, I am opening up more to the idea of a Rosemary pairing with Bram. Though I think she should be in the Knockouts division as an active competitor, I think this can still Rosemary something to do. For now, it can cause some friction for The Decay and gives a chance for a more depth storyline to take place because let's face it, at the moment, The Decay's feud with The BroMans and Raquel isn't picking up quick enough. Let Rosemary flourish a bit and see where they go from here.
What did you think of the "State of the Knockouts" segment? Do you think Gail will overcome Maria's plot? Do you like the idea of a Rosemary and Bram pairing? Let us know in the comments below!