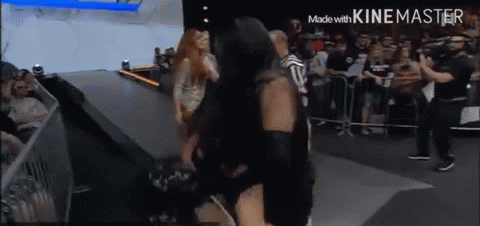 If you weren't aware, we are on the road to Slammiversary! Hooray for an actual live PPV to look forward to Knockout fans! Not to take anything away from the One Night Only PPVs, of course, but I think I speak for everyone when I say that we look more forward to live action over anything that was taped months ago.
Before we get to the June 12th event, the Knockouts still have some rumbling to do. Thanks to her authority power (and some muscle from the recruited Sienna), Maria Kanellis did away with Velvet Sky last week. Will Maria continue to be a primandonna tyrant or will a brave individual stand up to her? Let's find out!

While hubby Mike Bennett takes care of business with Ethan Carter III during his road to redemption, wife Maria Kanellis has her own agendas to take care of. She heads to the ring with her newly found apprentice Allie.
Despite some rowdiness from the Impact Zone, Allie gives her boss a formal introduction as she joins Allie in the six sided ring. While Maria begins to bestow on her vision for the Knockouts division, the Impact Zone break out a "We want Velvet" chant, a clear response from Velvet being "fired" last week. The leader of the Knockouts division acknowledges that the former two-time Knockouts champion was a fan favorite but goes on to say she was fired for being part of the Knockout's past, not part of the brighter future in the works.
Maria's choice of words draws out Gail Kim to the ring, who tells Maria she is fed up with her! Instead of talking about not being allowed to touch one another, Gail suggests they set up a match to square off once and for all. Maria refuses, citing that she is a "lady" who does not want to stoop to Gail's level but she does book a match for Gail this week.
Under the same circumstances as Velvet's match last week, if Gail loses her match to Sienna, she too will be fired. Not Gail Kim being fired! From behind, Gail's opponent Sienna attacks, tossing her to the outside and stands tall by Allie and their boss, who once again, managed to avoid any physical harm from Gail.
When we catch up with Gail backstage, she lets out her anger of Maria waltzing into the company and taking over the division. Gail says she has fought too long and hard for the division to meet the same fate that Velvet did.
We turn our attention to TNA's other recurring wrestling wife Reby Sky, who has a small sit down with Marv from Home Alone Matt Hardy. Reby tries to talk to some sense to her dark mannered husband in the midst of his feud with brother Jeff Hardy.
As we approach Slammiversary 2016, matches are being made and who better to announce this year's main event than TNA President Dixie Carter? Dixie announces that the TNA World Heavyweight title will be on the line as the champion Drew Galloway takes on Lashley one more time. What's the catch this time around? A winner will only be determined by Knockout or Submission! Place you bets now TNA fans! I'm going to go with Lashley.
As Sienna gets ready for her match against Gail Kim, she clumps together with Maria and Allie backstage. Sienna tells Maria that Gail has been the face of the division for far too long. Can't argue that! Sienna says the only way to end something once and for all is by ripping its heart out. Maria sings praises to Sienna, telling her this is why she chose her to be part of her clique, because of her strength and for believing in Maria's vision.
The fight for Gail Kim's career is next:
Sienna makes her entrance with Maria and Allie by her side. Wonder if they'll come up with an official name for this group? Gail Kim rides solo in her entrance but gets the first strike of forearms as the bell sounds off! Sienna eats most of Gail's punches and tries to hit one of her own but Gail dodges out the way.
Gail runs the ropes and takes down Maria's enforcer with a flying clothesline before going for an early pin. Sienna kicks out at two and tries to gain control when she gets back to her feet by whipping Gail to a corner. Gail blocks Sienna's oncoming attack and hits a crossbody, leading to another pin cover that Sienna kicks out of.
The action spills to the outside when Gail hurls Sienna over the top rope with a headscissors. As Maria checks in on Sienna, Gail begins to stalk her but the focus away allows Sienna to gain some control with an attack from behind. Though limping a bit from Gail's attack, Sienna uses her strength to drive Gail through a barricade.
Sienna throws Gail back to the ring and lands a running Samoan Drop to go for her first pin cover in the match. Gail kicks out at two. Sienna then takes Gail on a trip across the six sided ring, throwing her across the turnbuckles to inflict some hefty back damage. When Sienna mounts Gail over her shoulders, Gail sees an opportunity to counter with a reverse DDT.
A concerned Maria decides to take action when she notices Gail climb the top rope of a turnbuckle. The First Lady of Professional Wrestling knocks Gail off, causing Gail to crash and burn. Maria finishes her interference by tossing Gail back to the ring, allowing an easy set-up for Sienna to hit her throat Cut-Throat finisher. Gail reverses this into a sunset flip pin and manages to get the three count, saving her career in the process. An enraged Maria brawls out against a fallen Gail Kim post match, a clear result of having to continue to deal with Gail Kim.
Before we close out this week's episode, we get a surprise visit from forgotten Knockout Raquel! Remember her? The woman who once promised to bring pain or pleasure to Lashley!? Who dropped who from that storyline again? In any event, the Brazilian native is taking on a new role, acting as a Guru for the recently reunited BroMans.
Jessie Godderz and Robbie E want the TNA Tag Team titles again and are willing to take orders from Raquel, whether that being from an intense workout or a class on focus. Hmm, here's hoping this pairing actually lasts? And if they so suddenly break-up, can we at least get an explanation for it?
Thoughts: Though the Knockouts match was a bit short on time, I do have to say this was a step up from last week's match. There was much more action in place and more ring story telling what with Sienna having Maria and Allie by her side. Of course, that comes to play when you have Sienna going against the likes of Gail Kim as opposed to Velvet Sky. Though I am never crazy about roll up finishes, I understand why it was done to still sort of protect Sienna as being this force of reckon at Maria's fingertips.
Speaking of Maria, she continues to impress me in this role as leader of the Knockouts division. She flows naturally as this overconfident oppressor until the time comes to get physical. The post match attack by Maia has been the most physical involvement we've seen from Maria during her these Impact Wrestling shows. Time will tell how well that will transition to an actual match between these two. I'm confident that Gail can still bring out the best from her opponents.
Onto some few negatives, it is a bit disappointed to see that the Knockouts Champion Jade was away for a second week in a row! While the Maria/Gail storyline continues to have some working building blocks, it is coming at the expense of Jade's reign as champion becoming an offset sideline.
I'm a bit unsure of how Raquel in this new managing role. TNA didn't stick with her and Lashley (who has gone to bigger and better things) so it does raise concern as to how committed TNA are with Raquel. Granted, this is a fresh start for Raquel but I wasn't completely sold on her little segment with the BroMans. However, on the bright side of this, the BroMans acknowledging their craving to hold the TNA Tag Team titles makes me excited to see The Decay feud with the BroMans, specially Rosemary's involvement in all of this. While Rosemary, who in my opinion has really been a breakout star for TNA this year, is still straying away from the Knockouts division, this gives her chance to feud with another Knockout, someone who is a complete opposite to her.
There's potential for an interesting feud between these tag teams which may stem from the women who are involved from both teams.