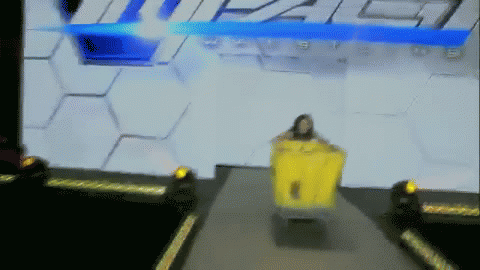 Hola Knockout fans and welcome to this week's Impact Write-Up. Despite ongoing lawsuits between TNA and it's President Billy Corgan, the #ImpactOnPop shows must go on; well, that is until anything changes and/or we get an update on where the company stands in the weeks ahead. Going to reopen that praying circle for you TNA!
As we learned last week, Maria Kanellis is cashing in on her title rematch against Gail Kim under No DQ rules. This time, there is more than just a title at stake as Maria's role as Leader of the Knockouts division will also be on the line.
Just to refresh your memories, Dixie Carter had previously announced that so long as Maria was Knockouts Champion, she couldn't be Leader of the Knockouts due to conflict of interest. Hooray for some continuity?
Maria Kanellis, sporting her new ShopTNA Miracle shirt, is backstage gloating about how she will defeat Gail Kim once and for all. When Maria asks where the rest of her entourage are, she gets some bad news in the form of an email read by apprentice assistant Allie.
The email from an unnamed sender says that Sienna, Laurel Van Ness and Allie are all banned from ringside. Isn't this a no DQ match? Maria is furious and blames Allie for not passing along this message earlier. She calls Allie stupid for the 101st time as she wanders off to come up with a Plan B for tonight's match.
In between finding a way to outsmart Gail, Maria is at ringside for Mike Bennetts' match against Cody, who has his wife Brandi at this corner. No ringside catfights this week Knockout fans!
Post Cody/Mike match, we find out that Plan B for Maria turns out to be Mike Bennett offering to stand at ringside next to his wife… or so the Bennetts think. Allie reveals that in the same email that was read earlier, Miracle Mike is also banned at ringside. The couple conspire a theory that TNA is always stacking the deck against them. With her match just moments away, Mike offers some final encouraging words to his wife, assuring that she has got this in the bag.
Let's see how this Knockouts No DQ match plays out:
Maria makes her way down the Impact Zone and arms herself with weapons by tossing in a few goodies before stepping inside the six sided ring. Back at the commentary table for a second week in the row is Madison Rayne. Safe to assume that Madison will be calling Knockouts matches on a regular basis now? Speaking on behalf of the Knockouts division, Madison says that she is behind Gail this week to overthrow Maria's status as Leader of the Knockouts.
Gail makes her entrance next and when the bell sounds off, Gail dodges an incoming trash lid attack from Maria. Gail picks up a kendo stick that sends Maria fleeing to the back but she doesn't get very far as Gail manages to keep up with her.
The champion drops her weapon and takes Maria down with a hard hitting clothesline. Gail steps to the backstage area for a few seconds and comes back out with a laundry cart! With yellow laundry cart in her possession, Gail wheels Maria in and rolls The First Lady of Professional Wrestling from the entrance ramp all the way down to the edge of the six sided ring! What a bumpy ride!
Gail tosses Maria out the cart and back inside the ring. She fetches a baking sheet from under the ring to use as a weapon but before Gail can use the baking sheet, Maria blinds her with an eye rake and quickly grabs a garbage lid to strike Gail in the midsection. Maria goes for a pin cover after landing a running neck breaker but the champion kicks out.
Maria goes for a second pin cover after striking Gail's back with the same baking sheet and taking her down with a spine buster but Gail still kicks out before the three count.
A trash can lid comes back to play and just when Maria is able to hit two shots to Gail's back, the champion fights back, kicking Maria's weapon out her hand and then using it against her with a few running clotheslines in between.
Gail climbs the top turnbuckle, going for a flying cross body but Maria dodges this, causing Gail to crash to the mat. With Gail down, Maria picks up a kendo stick and continues to targets Gail back.
Maria switches her offense and charges after Gail head-on but Gail stops Maria in her tracks and hits an Eat Defeat. Seemingly, Gail has this match won when she goes for the cover but Gail breaks her own pin at the two count mark.
Why? So she can hit a second Eat Defeat on Maria with a trash can lid in place, that's why! Gail goes for the cover, gets the three count win and removes Maria from power of the Knockouts!
Thoughts: I've said before how I felt that the match between Gail and Maria at Bound for Glory should have had some kind of stipulation. Not only to show the aggression between two feuding Knockouts with a nine month build but also to hide some of Maria's weakness, given that she had not competed in a regular match in 18 months.
This week, TNA gave us that and though I found this match to be more entertaining than that of Bound for Glory, I feel that there was still that lack of aggression somewhere. The laundry cart was a fun spot and Gail's two weapon style Eat Defeats were different but this wasn't exactly the most memorable of street fights. Still, Maria certainly looked and flowed much better here and she did at Bound for Glory.
So, with this Knockouts title rematch clause now done, a new contender will be making their way to the title picture. Maria will still be kept busy as she moves on to a new feud alongside her husband Mike Bennett against Cody and Brandi Rhodes.
All this happening, while the story of Allie being bullied carries on. At this point, I've grown weary of this storyline. Though Allie has played role well up to this point, the constant ending of Allie tolerating Maria's antics instead of actually standing up for herself, which is something I'm sure fans can get behind, is a missed opportunity to make the most of all the sympathy already surrounding Allie and slowly introduce her as regular in ring competitor. Let's just try and shake things up in this circle TNA, even if it is through small backstage segments!
What are your thoughts on this week's episode of Impact? Did you enjoy this round of Gail vs. Maria more than their match at Bound for Glory? Are TNA taking too long to have Allie break away from the Maria clan? Let us know in the comment below!