On Night Two of WrestleMania 37, Natalya and Tamina took on Shayna Baszler and Nia Jax after coming out on top in the Women's Tag Team Turmoil match the night before. In the match, Natalya and Tamina put on a great showing but were eventually beaten out by the reigning champions.
During the match, some fans expressed concern about Natalya. Some noticed that the third generation star appeared to have been caught in the mouth by a running knee strike. It was thought that she had lost a tooth – in the final moments of the match, her lips appeared to be swollen.
Clearing things up, Natalya has taken to Twitter. She posted a photo of her injured mouth, saying:
"Teeth are good. A hole through my lip. Wrestling is real. And I'm #Unbreakable. #WrestleMania"
Shayna Baszler commented on Natalya's injury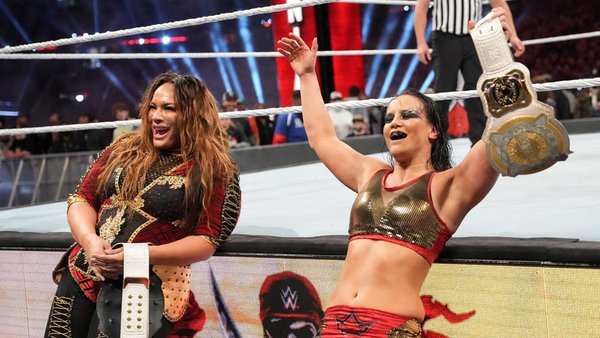 On Twitter, WWE Women's Tag Team Champion Shayna Baszler sent out a response to Natalya. She quoted the original photo, dubbing herself "Baszler the Dentist".
From this, it appears that the feud between the two tag teams may continue, as the former SmackDown Women's Champion replied:
"I loved it. More. You send me to sleep and I send you to the hospital. That's the way this is going to work, Dentist Baszler."
Many WWE fans were surprised when Shayna Baszler and Nia Jax retained their titles at WrestleMania 37. A split has been hinted at for some time between the two women, and the fans had recently appeared to get behind Natalya and Tamina as a tag team, especially following their win on Saturday night. The crowd was firmly being Tamina especially giving her chants throughout the match.
What did you think of the women's tag team action at WrestleMania 37? Who would you like to see dethrone Shayna Baszler and Nia Jax? Share your thoughts in the comments section.