SHIMMER has released some free videos from its most recent set of tapings, and for the first time, revealed details about the company's new sister promotion, SHINE Wrestling.
Read below:
[notice]Headlines:
– Preview of Volume 45 artwork!
– New free videos now online!
– Tickets now on sale for SHIMMER 49-52!
– SHINE Wrestling coming to Florida in July!
PREVIEW OF VOLUME 45 ARTWORK!
————————————————–
Below is a preview of the SHIMMER Volume 45 DVD artwork. Look for it to be available for pre-order shortly.
FREE VIDEO PREVIEWS!
————————————————–
We've recently posted two free videos on YouTube as a sample of the newest DVD releases. Check 'em out!
Courtney Rush thinks Sara Del Rey needs to dance
The End of the Knight Dynasty
SHIMMER 49-52 TICKETS NOW ON SALE!
————————————————–
SHIMMER – WOMEN ATHLETES returns to the Berwyn Eagles Club (6309 26th Street) in Berwyn, IL on Saturday & Sunday, October 27th & 28th, 2012. Volumes 49-52 of the SHIMMER series will be filmed during the course of that weekend. Bell time on Saturday, October 27th is 2pm. Bell time on Sunday, October 28th is 1pm. The events are suitable for all ages.
Front row seating is already sold out for the entire weekend. General admission seating is still available at a cost of $30 per full day of taping (two full length DVDs worth of live matches). Use the PayPal buttons at http://www.shimmerwrestling.com/ to secure your seats. Alternately, you may purchase tickets by money order. E-mail [email protected] for mail order instructions. Over half of the available tickets have already been sold for the events.
Make your plans now to be a part of the weekend of SHIMMER tapings which will include the milestone SHIMMER 50 event. Mark your calendars, and join us live!
Discuss the SHIMMER 49-52 tapings in the following thread at The SHIMMER Forum…
http://tinyurl.com/7x9xaqz
NEWEST SHIMMER DVD RELEASES
————————————————–
Up through Volume 44 of the SHIMMER DVD series is now available for immediate worldwide shipping! Below is a description of each of the newest releases in the SHIMMER series, along with a link to place your order online via PayPal. If you would like to purchase DVDs from SHIMMER using a money order, please E-mail [email protected] for mail order instructions.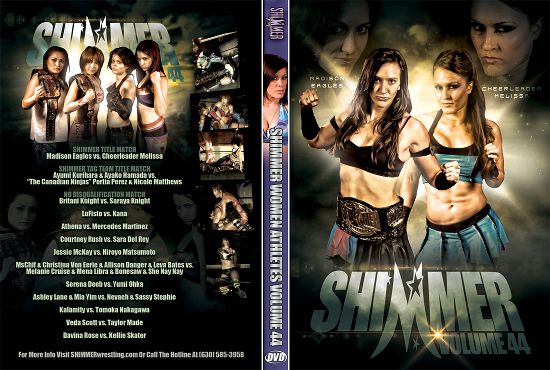 SHIMMER- WOMEN ATHLETES Vol. 44 (DVD)
Description:
1. Davina Rose vs. Kellie Skater
2. Veda Scott vs. Taylor Made
3. Kalamity vs. Tomoka Nakagawa
4. Ashley Lane & Mia Yim vs. Nevaeh & Sassy Stephie
5. Serena Deeb vs. Yumi Ohka
6. MsChif & Christina Von Eerie & Allison Danger & Leva Bates vs. Melanie Cruise & Mena Libra & Bonesaw & She Nay Nay
7. Jessie McKay vs. Hiroyo Matsumoto
8. Courtney Rush vs. Sara Del Rey
9. Athena vs. Mercedes Martinez
10. LuFisto vs. Kana
11. No Disqualification: Britani Knight vs. Saraya Knight
12. SHIMMER Tag Team Title Match: Ayumi Kurihara & Ayako Hamada vs. Portia Perez & Nicole Matthews
13. SHIMMER Title Match: Madison Eagles vs. Cheerleader Melissa
Running Time: 3 hours, 27 minutes
Price: $15.00
Order at http://shimmerwrestling.blogspot.com/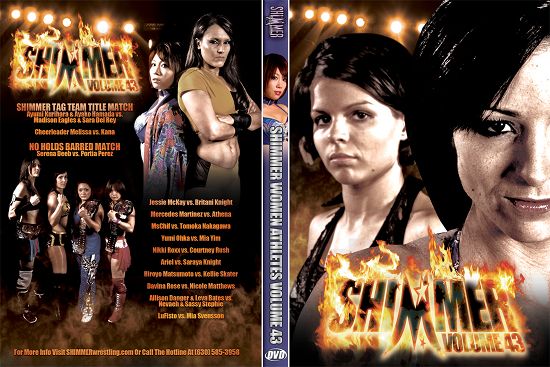 SHIMMER- WOMEN ATHLETES Vol. 43 (DVD)
Description:
1. LuFisto vs. Mia Svensson
2. Allison Danger & Leva Bates vs. Nevaeh & Sassy Stephie
3. Davina Rose vs. Nicole Matthews
4. Hiroyo Matsumoto vs. Kellie Skater
5. Ariel vs. Saraya Knight
6. Nikki Roxx vs. Courtney Rush
7. Yumi Ohka vs. Mia Yim
8. MsChif vs. Tomoka Nakagawa
9. Mercedes Martinez vs. Athena
10. Jessie McKay vs. Britani Knight
11. No Holds Barred Match: Serena Deeb vs. Portia Perez
12. Cheerleader Melissa vs. Kana
13. SHIMMER Tag Team Title Match: Ayumi Kurihara & Ayako Hamada vs. Madison Eagles & Sara Del Rey
Running Time: 3 hours, 16 minutes
Price: $15.00
Order at http://shimmerwrestling.blogspot.com/
SHIMMER- WOMEN ATHLETES Vol. 42 (DVD)
Description:
1. Mercedes Martinez vs. Leva Bates
2. Hailey Hatred & Kalamity vs. Melanie Cruise & Mena Libra
3. Four Corner Surivial: MsChif vs. Kellie Skater vs. LuFisto vs. Tomoka Nakagawa
4. Courtney Rush vs. Yumi Ohka
5. Portia Perez vs. Davina Rose
6. Nikki Roxx & Ariel vs. Nevaeh & Sassy Stephie
7. Cheerleader Melissa vs. Christina Von Eerie
8. Triple Threat Match: Jessie McKay vs. Athena vs. Mia Yim
9. Serena Deeb vs. Nicole Matthews
10. SHIMMER Tag Team Title Match: Ayumi Kurihara & Ayako Hamada vs. Saraya Knight & Britani Knight
11. Kana vs. Sara Del Rey
12. SHIMMER Title Match: Madison Eagles vs. Hiroyo Matsumoto
Running Time: 3 hours, 7 minutes
Price: $15.00
Order at http://shimmerwrestling.blogspot.com/
SHIMMER- WOMEN ATHLETES Vol. 41 (DVD)
Description:
1. Nikki Roxx vs. Kellie Skater
2. Mercedes Martinez vs. Davina Rose
3. Hailey Hatred vs. Kalamity
4. Yumi Ohka vs. Sara Del Rey
5. Mia Yim vs. Kana
6. SHIMMER Tag Team Title Match: Daizee Haze & Tomoka Nakagawa vs. Ayumi Kurihara & Ayako Hamada
7. Ashley Lane vs. Nevaeh
8. Cheerleader Melissa vs. Britani Knight
9. Jessie McKay vs. Portia Perez
10. British Rounds Match: Saraya Knight vs. Allison Danger
11. Hiroyo Matsumoto vs. Nicole Matthews
12. SHIMMER Title Match: Madison Eagles vs. Serena Deeb
Running Time: 3 hours, 20 minutes
Price: $15.00
Order at http://shimmerwrestling.blogspot.com/
SHINE WRESTLING COMING TO FLORIDA!
————————————————–
It was announced this past week that a new sister promotion to SHIMMER will kick off on July 20th at The Orpheum in Ybor City, FL. These shows will be promoted under the SHINE Wrestling banner, and will feature many of the SHIMMER competitors, as well as some talents who are not currently a part of the Berwyn events. Each of the SHINE shows will be available at http://www.wwnlive.com/ on iPPV. More details concerning the July 20th debut event will be available during the coming weeks.[/notice]