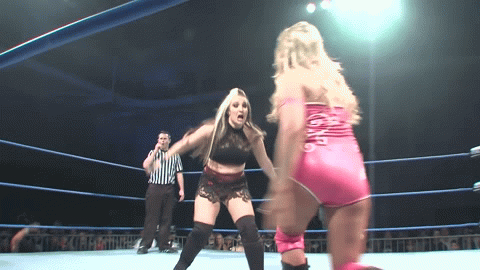 Hola Knockout fans and welcome to this week's Impact Write-Up. Can you believe it's finally Bound for Glory weekend? I sure can't… for all the wrong reasons. *Sigh* But regardless of some of the turmoil the company has gone through leading up to their biggest event of the year, we still have two Knockouts matches to look forward to – one of which will include Gail Kim competing in her final Bound for Glory. Let's see how things unfolded.
Much like this past month, Impact Wrestling continues their footage filler "trip around the world" and this week, the Knockouts get a bit of the spotlight in tag team action. We head over to Windsor, Ontario, Canada for the Border City Wrestling promotion that sees the Demon Bunny team of Rosemary and Allie taking on the Knockouts Champion Sienna and KC Spinelli. Hey there, could this be a preview of Spinelli's rumored appearance on Impact next week?
Sienna and Spinelli start things off by attacking Team Demon Bunny from behind. Spinelli takes charge and begins to work on Allie by driving her to a corner. A tag is made and Sienna tosses Allie to another corner where she lands several kicks to the midsection.
Another tag is made and after taunting Rosemary a bit, Sienna and Spinelli begin to double team on Allie. The heels whip Allie to the ropes but upon returning, Allie ducks a clothesline and counters with a running cross body! Go Allie go! She rolls over to Rosemary and is able to get the tag in.
Rosemary enters the ring by climbing the top ropes and connecting a cross body that takes down both of her opponents. She takes control of the match with a T-Bone suplex on Spinelli for a two count. Rosemary begins to climb a turnbuckle but a small distraction from Sienna allows Spinelli to take advantage and throw Rosemary off her game. Three standing elbow drops later, Spinelli goes for the cover that earns a two count.
Spinelli goes for another cover after dropkicking Rosemary to a corner but still falls short on picking up the three count again. Spinelli retreats to her corner where Sienna makes a tag and lands in chops to the chest to Rosemary. She whips Rosemary to a corner but the Demon Assassin blocks her off with an elbow.
Rosemary uses the ropes to lock in a quick tarantula but gets taken back down up re-entering the ring with a running big boot…. or so we think? Rosemary slowly rises back on up that sends a scare to Sienna. The two Knockouts each go for a roundhouse kick that ends with both women going down.
As with most hot tag scenarios, both Knockouts make tags to their respective partners. Allie unleashes full force on Spinelli, finishing things off with a dropkick that earns a two count. Allie scoops Spinelli up but Spinelli escapes and counters out with a spinning clothesline.
She makes a tag to Sienna, who tries to land a big boot on Allie but instead hits her partner Spinelli by mistake. Allie seizes the moment to land a code breaker on Sienna! Rosemary slides in to add a German Suplex! Allie covers and gets the three count win! Can Allie pin Sienna again come Sunday with the title on the line?
Impact Wrestling also released this mini clip of Rosemary ahead of her Red Wedding match against Taya Valkyrie.
We head back to Impact Zone to hear Gail Kim address her final Bound for Glory appearance. Gail looks elegant as she is welcomed by the Impact Zone and good friend Jermey Borash. He mentions the ten year anniversary of the Knockouts division and reminds us that in 2007, Gail Kim became the inaugural Knockouts Champion. Wow, ten years ago! Where does the time go, seriously?
Gail takes over and recalls of how things were when she first joined the company twelve years ago. She had a vision for a women's division and is proud to see that her dream became a reality. JB looks ahead at Bound for Glory and the opponents that awaits her. Gail praises her fellow Canadian pal Allie but warns her that when they step into the ring, its all business.
Then there is the champion Sienna. Gail says for her final Bound for Glory, she plans on brining back the Knockouts Title back to where it all started: around her waist. Huh, they did an okay job editing out any mention of Taryn Terrell but I can't help to wonder how it would've played out.
And finally a special look at both Knockouts matches taking place at Bound for Glory:
Thoughts: Ok so even after this home-go show for Bound for Glory, I can't really say that I'm all that excited for Sunday's Knockouts Title match. It's been a couple rough months for Impact (when isn't it), what with the growing list departures from the company. the messy divorce from GFW/Jeff Jarrett and just some concern/uncertainty of how the company will play as the reportedly get set to make Canada their home. Well, maybe it'll be better than the Impact Zone?
Putting the negatives to the side, I am glad to see Gail have her short goodbye moment before Sunday, Personally I feel like Impact have really dropped the ball in making Gail's final BFG match anything special and Taryn Terrell's abrupt departure doesn't help at all. For all of the years that Gail has dedicated and poured into Knockouts division (and because I can honestly say Gail is one of favorites of all time), she deserves to have that Cinderella/Trish Stratus career ending moment.
It's so strange looking back at last year's BFG: we were complaining of how Gail's match against Maria Kanellis lacked any sort of real action but their year long feud had plenty of investment in it. This year, there is no sort of build to the Knockouts Title match whatsoever but surely the match will miles better. Originally, my prediction was set on Taryn winning the title at BFG and THEN feuding with Gail one-on-one as a retirement but we now know that isn't happening. At this point, Gail is a safe bet but I'm going to give an early prediction in saying that Allie will pick up the surprise win.
Speaking of Allie, I really enjoyed this small tag match. I just love Team Demon Bunny! It was fun and even though its a small detail, seeing the Knockouts complete in a four sided ring again really made me want to see them go back to it. As I said before, this tag was nothing more than filler but, in a sense, it did help build some credit for Allie and Rosemary. Allie getting the pin over the champion and Rosemary trying to regain some momentum ahead of her match against Taya Valkyrie. Poor Sienna is going in with not a whole lot after a pretty long Knockouts Title reign.
Echoing to what my colleague Rhys said about Bound for Glory, the Rosemary/Taya feud is the one match I'm excited about – in fact, its the match on the card I think will steal the show! Sure they may have dubbed it 'Red Wedding' but all signs suggest it'll be a first blood match. Good luck to all the Knockouts and wrestlers alike come Sunday, we'll be watching!
What did you think of this week's Impact? Are you excited for Bound for Glory? Who are you rooting for? Let us know in the comments below!