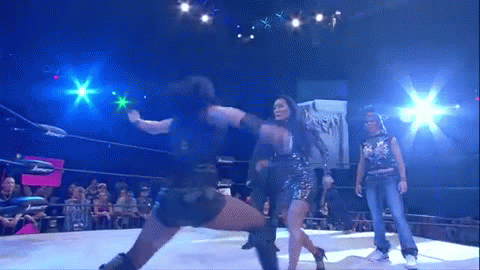 Hola Knockout fans and welcome to this week's Impact Write-Up. Recall all of those "Missing: Knockouts Champion Gail Kim" milk cartons; after nearly a month off television, Gail Kim makes her return to TNA this week! The Knockouts champion makes her return with an important announcement to make. So what is this mystery announcement coming from Gail? Let's dive in and find out.
Jeremy Borash sets the stage for Gail Kim's televised return, bringing to light their decade plus friendship. When the TNA Hall of Famer makes her way to the six sided ring, she takes the mic from JB and thanks him for his friendship; referring to him as family.
Gail then goes on to reveal how one of her goals as a wrestler, aside from being Knockouts Champion, was to help inspire the next generation of stars. With that said, Gail invites Jade to the ring and sings nothing but praises to Jade when she comes out. A rush of emotions run through both Gail and Jade when Gail puts Jade over as the future of women's wrestling. The Impact Zone are in full agreement, chanting Jade's name as Gail gets ready to what sounds like a possible retirement announcement. *Giga gasp*
Before Gail can make her official announcement, she is interrupted when The Decay's music hits. Taking center stage is Rosemary, who by the way, is also making her TNA return after being MIA. She slowly marches with her way to the ring, with her trusty henchmen Crazzy Steve and Abyss by her side. Once Rosemary crawls her way to the ring, she blinds Gail with a mist and takes out Jade with an F-5!
JB tries to regain some order in the madness that has just broken but Abyss clears the ring of him all while Rosemary retargets Gail, choking her out. With Gail down, Rosemary turns her focus on Jade, who is being held down in a corner by Steve.
Abyss brings in a trash can to the picture, placing it carefully next to Jade's right arm. From the top rope of a corner, Rosemary hits a coast to coast on it and lays out Jade. The Deal Dealers have spoken and are gunning for the Knockouts title!
Later on the show, we find Allie backstage admiring some of Braxton Sutter's matches via mobile device. Hope they weren't any of Sutter's Team X-Gold matches. Brandi Rhodes walks in and thinks that Allie and Braxton would make quite a cute couple. *wink, wink*
Getting back to business, Brandi commends Allie for holding her own in her match against Laurel Van Ness. She then shares with Allie the troubles she has been dealing with Maria Kanellis and Sienna, implying that she could some help.
Allie, sadly, declines joining forces with Brandi; with the reason being that Allie still "works" for Maria. So… Allie hasn't turned on Maria completely yet? Brandi reminds Allie that she needs to stand up for herself and fight the good fight but all Allie can do is apologize to Ms. Brandi before walking away.
Throughout the show, Reby Hardy also makes several appearances in the comic relief portions of this week's Impact. Her husband, "Broken" Matt Hardy is suffering from amnesia and it is up to the entire Hardy clan to jog back his memory. Sadly, even the now familiar melody/song of "Obsolete" weren't enough to bring back Matt or stop him from referring to Reby as "Debbie". Funny stuff, no less.
Thoughts: So we go another week without a Knockouts match.
Normally, I would rant, yet again, of how there appears to be a disinterest in TNA when it comes to their Knockouts division but I can give them a bit of a pass this time. Both Gail and the Knockouts title finally made their way back to our screens with some storyline progression as well as a presence of a new threat in the title picture!
The actual set-up for this week's segment was interesting, considering it was basically hinting a Gail Kim retirement that included a "passing of the torch" feel for Jade. Kayfabe or not, it wouldn't surprise me if Gail is ready to hang up the boots: she's accomplished pretty much everything a Knockout can do in TNA at this point but still remains this focal figure within the division. Personally, I think Gail still has a little more to contribute in the Knockouts division before retiring from the ring.
While Jade isn't the wrong nominee in being Gail's successor in the division, I don't necessarily think TNA have done the best job in demonstrating this. Jade's last match on Impact happened way back in September, she's been sidelined in favor of other Knockouts feuds and her reign as Knockouts Champion this year wasn't memorable. Jade's talent is there but the booking still needs some work.
Rosemary's return just continues to remind me why she is a star in the division! Her character, look and dominance this week was super refreshing to see. I'm excited to see Rosemary take on more of an active role in the Knockouts division as I've found her to be the most interesting woman in TNA (and wrestling) this year!
Finally there's the Allie/Brandi interaction to discuss. Brandi is slowly finding her way with these promos/segments and she does have this story of wanting to recruit some numbers to combat Maria's Lady Squad, so I can see some room for growth.
However, I'm not sure if having Allie fall back to Maria is the best move. She was finally able to stand up for herself after being bullied for months from Maria, which resulted in the crowd getting fully behind Allie. Taking these steps back just feels like prolonging a story instead of going forward. Maybe it's just me but I would like to see more of an edgier layer to Allie's character and don't think that can happen unless Allie fully stands up on her and fights back.
What did you think of Impact this week? Excited to see more of Rosemary in the Knockouts division? What are your thoughts on Allie seemingly working with Maria once again? Let us know in the comments below!