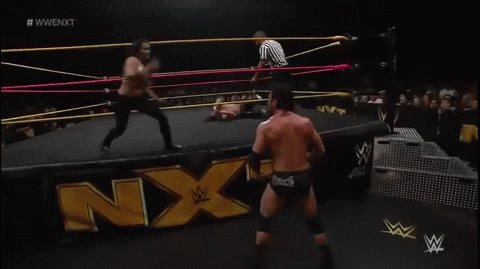 Welcome all to the Women of Honor- no wait, the Impact Write- no no, hang on… NXT REDUX?!?! Goodness me, I really am a jack of all trades! So first off, apologies from the Diva-Dirt team for not posting a Redux for last week's episode. They were busy with things and they didn't have the time to find someone else to cover NXT at the time. Things are still busy for us, which is why I'm jumping in for a change. Hopefully I can do a fine job until things are back on track.
I promise not to mix Mandy Leon and Jenny Rose for Mandy Rose this time. Though I suppose it would be one of the rare times she's mentioned in NXT. OH DANG! *finger snap* But seriously, of all times to be featured in anything NXT related, not this week?! Put her face on a milk carton and if found, call someone ASAP.
The first mention of the NXT Women is by NXT General Manager William Regal, who adds Nikki Cross to tonight's qualifying battle royal. This is due to Taynara Conti of all people, costing her the match. We soon see a recap of this match, which included Liv Morgan and Peyton Royce, the latter of which won due to the earlier distraction.
Also, can we just take a moment to appearance the hilarity of this moment from that match?
It was at this moment, that Taynara knew, she dun BLEEPED up.
So this week we had a Battle Royal match to determine the final women heading into the NXT Womens Championship Fatal-4-Way match at NXT TakeOver: War Games. Introducing in order of participants…
Vanessa Borne! Bianca BeLair! Sage Beckett! Mercedes Martinez! COMMERCIAL! (gosh darn it.) After the break, we see the likes of Abbey Laith, Sarah Logan, Lacey Evans, Santana Garrett, Zeda, Rhea Ripley, Reina González, Dakota Kai, Name? Aliyah and Taynara Conti (ay there she is). Carrying on with entrances, we get… Candice LeRae! Billie Kay! With the already advanced Peyton in toe. And of course, Nikki Cross.
Nikki immediately goes after Taynara and everyone else goes nuts! Not long into it, Taynara is eliminated by Cross, but the Brazilian pulls out her out and attacks her on the outside. Peyton also adds some insults to injury by pushing Nikki into the steel steps. Bitter much ladies?
As the match goes on, we see the following eliminated in order. Rhea Ripley by Bianca! Zeda by Bianca! Dakota Kai by Sage! Aliyah by Sage! Someone? by Santana! … Apparently?
And by this point, Nikki enters the match again and hits a diving crossbody on nearly everyone… no joke. But yeah, back to the eliminations!
Vanessa Borne by Cross! Sage Beckett by Cross! Santana Garrett by Cross! Abbey Laith by Cross! Sarah Logan by Mercedes! Lacey Evans by Candice! And in an INCREDIBLE feat of strength, Candice LeRae by Military Drop onto Logan and Beckett on the outside. Curtousy of Bianca BeLair.
By this point, the final four are Bianca, Billie, Mercedes, and Nikki. Billie was close to being eliminated by Bianca, but Billie held on by hair… BeLair's specifically. She held on to her weapon weave which looked incredibly painful. But then Bianca stared using it against Kay as a weapon again, which sounded ever more painful. Nikki and Kay brawl through the ropes to the outside (DOESN'T COUNT) and Bianca & Mercedes fight inside as Bianca ties her hair up. Smart girl.
The two soon go over the top, fighting on the apron, to which Cross eliminates both. Billie tries to eliminate her at this point, but is unsuccessful. Billie attempts to hit the 'Shades of Kay' (I see what you did there) but Nikki dodges and attacks her leg which is stuck on the top rope. Nikki re-enters the ring and throws Billie over the top rope and onto the floor. Nikki Cross wins!
It's official: #SAnitY's @NikkiCrossWWE is going to Houston! #WWENXT pic.twitter.com/pFTYT06QJE

— WWE NXT (@WWENXT) October 26, 2017
NXT General Manager William Regal enters the ring with the vacant NXT Womens Title as Nikki and Peyton exchange words. Enter both Ember Moon and Mae Young Classic Winner, Kairi Sane and we have your standard yet extremely hyped staredown.
Although she didn't come out with win for a spot at TakeOver, Mercedes Martinez shares why she believes Ember Moon will come short at the live NXT special.
.@Zelina_VegaWWE has business about @AndradeCienWWE to discuss with @DMcIntyreWWE… but your #NXTChampion is in NO MOOD to talk! #WWENXT pic.twitter.com/oJZ2WGIimB

— WWE NXT (@WWENXT) October 26, 2017
Outside of the Womens Division, we see Zelina Vega interrupt a paparazzi type interview for NXT Champion Drew McIntyre. She is unhappy as she said her associate, Andrade "Cien" Almas and her never got a contract for his Championship match. Drew admires her determination, but he wants Cien to challenge Drew himself. He walks off as one of the interviewers tries to get a comment from Vega about what just happened. She just brushes him off, saying she's not here to talk to them, and walks off in a huff.
Later in the Main Event, Andrade, along with Zelina, faces off against Roderick Strong. She cuts a promo before the match about still waiting for a contract for his Championship match. Zelina says that Drew is ducking Almas because he knows that like Strong, he is not man enough to breath the rarefied air of a champion.
Sometimes you've just got to take matters into your own hands. @Zelina_VegaWWE #WWENXT pic.twitter.com/0tYmMYoEtP

— WWE Universe (@WWEUniverse) October 26, 2017
Zelina did make her mark felt with more than just barking orders at Cien, by getting involved physically… BY SENDING STRONG INTO THE STEEL STEPS WITH A HURRICANRANA FROM THE APRON!! A women of both words AND action is Miss Zelina Vega. If this whole Andrade thing doesn't work out, maybe the Womens Division could be her next business venture.
Safe to say that @AndradeCienWWE & @Zelina_VegaWWE are feeling MORE than ready for @DMcIntyreWWE after tonight's win! #WWENXT pic.twitter.com/SzrULoVYIo

— WWE NXT (@WWENXT) October 26, 2017
Andrade uses this to hit his finish on Strong in the ring and win the match. The two head over to the announce table, takes  headset and Zelina says the following. 'Drew McIntyre… we want to know if you're a man of your word. So next week, Andrade will meet you, face-to-face.' Andrade also grabs it and calls Drew scared and followed it up with some espanol… and then other main event stuff that doesn't involve the women.
But we do have an exclusive clip from WWE.com. William Regal announces Drew and Almas WILL be facing each other for the NXT Championship at NXT Takeover in Houston. So expect to see Zelina not far behind.
Thoughts: Well, this week was an eventual one huh? The battle royal itself was jam packed with many women from the MYC, as well as three other NXT regulars. Certain people got showcased more, which shows good signs for them in the future, whether they are with WWE (Biancia, Taynara, Sage), or not (Mercedes, Candice). Having Nikki win was definitely an interesting choice, especially since she already competed in a past qualifying match. But for her to win this match gives her one of the stronger chances of winning the championship match against the other women. But there you have it. Kairi Sane, Peyton Royce, Ember Moon and Nikki Cross, face off for the NXT Womens Championship in Houston!
Another star that shined in this episode was Zelina. Obviously she has been a vocal point in the growth of Andrade Cien Almas in the NXT Championship match, but to see her physically get involved, and in the way she did, is definitely a huge deal. Will we see her do something similar in the lead up to the NXT Championship match at Takeover, or even in the match itself. Judging from her disdain for the current champion, most likely.
But what do you all think? Who do you think will become the new NXT Womens Champion? Do you see Zelina getting involved more in the build-up for the NXT Championship match? Do you see any other rivalries with the other women leading into any of the other matches? Let us know in the comments below!