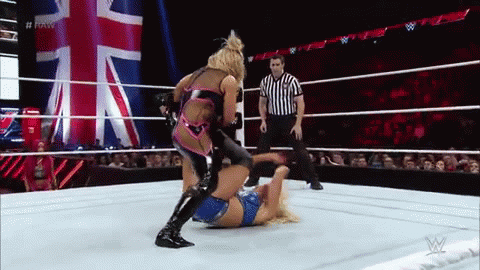 Good day WWE fans and welcome to this week's Raw Redux. It's Josue here and I'll be covering for Jack this week, as he has been out representing Diva Dirt during WWE's visit over at the UK. This will be my first try at a Raw Redux, so here's hoping I can deliver as well as my fellow team members have!
Natalya continues to set her sight on Charlotte and the WWE Women's Championship. The Queen of Harts will meet the champion at Payback for another shot at the gold but this week, she'll team up with Paige, Becky Lynch and Sasha Banks to take on the team of Charlotte, Summer Rae, Naomi and Tamina. I'm a tad disappointed to see Emma left out in this match but crossing my fingers that she isn't forgotten during one of WWE's other programs.
Before we get into our big eight-woman tag match, we first check in with WWE's "It" couple Maryse and The Miz. They head out to the ring after avoiding a messy liquid spill found on the floors of the backstage area. We've all been there, right? Thankfully a gentleman was generous enough to provide his suit jacket over this spill for a free passageway for the Intercontinental champion and his leading wife,
Once in the ring, the hosts of Miz TV exchange words with Miz's opponent for Payback, Cesaro. The exhange quickly leads to the alternative eight-person tag match of the night, pitting the League of Nations and Miz against Cesaro and New Day. Poor Zack Ryder will have to go back to sitting in the back burner before getting a shot at the IC gold again.
WWE Women's Champion Charlotte is up next and, of course, she has her legendary father Ric Flair by her side. In the midst of an interview, we're treated to a replay of last week's match that ended with much controversy. Charlotte labels Natalya as a "failure", who knows nothing about succeeding, just like the every other women in the division. Ric leans in on the mic to deliver his infamous "Wooooo!" taunt but gets cut off by an interjecting Natalya. Thank you Natalya!
Natalya reminds the champion that despite Ric's interference last week, she still forced Charlotte to tap out. With that being said, Natalya also reveals that acting general manager Shane McMahon has granted her a title rematch at Payback. A confident Charlotte says that this rematch will end no different than any of their past encounters.
That's when Nattie pulls out the last trick she has up her sleeve; stating that this match will indeed be different from the rest, as she will have her famous uncle Bret Hart at her corner. Total flashbacks to their spectacular NXT Takeover match just a few years ago!
Time to turn to our attention to the match of the evening:
Assumed team leaders Natalya and Charlotte start things off…. or so we think. Charlotte throws a feint attack to her upcoming challenger before deciding to tag in an eager Summer Rae to start things off instead.
Natalya stands firm and brings Summer down to the mat with a headlock takedown. Summer is then dragged by the arm to the corner of Nattie's teammates, where a tag to Sasha is made.
Sasha tries to pick up where Nattie left off but Summer fends off The Boss, tossing the back of Sasha's head onto the mat. Summer then grabs a hold of Sasha and takes her to the corner, where Naomi tags in. Naomi begins to work on Sasha's left arm but Sasha manages to break free from her former B.A.D partner with the use of her right arm.
Sasha takes a shot at some of her opponents standing at the ring apron and takes Naomi to a corner. A tag to Paige is made, triggering a pop from the UK audience in attendance. Paige whips Naomi to a turnbuckle and lands a running knee to midsection. Paige follows up with a fallaway slam, causing Naomi to roll through the bottom ropes and retreat to the outside of the ring.
Team partner Tamina checks on Naomi but gets taken out with a cannonball senton by Paige from the ring apron. A frustrated Charlotte marches toward the fallen Team B.A.D but gets attacked with a flying forearm by a guarding Becky Lynch. Three members of Team Charlotte are laid out as we head to a commercial break.
Upon returning from the break, Naomi continues to be the legal woman for the Heel team while Becky Lynch was tagged in during the break. The two fight for control, exchanging pin attempts until Tamina manages to tag herself in.
From the outside, Tamina grabs a hold of Becky's right leg and pulls her to the outside environment. Tamina takes careful aim and lands a massive super kick that knocks the lights out of Becky. Tamina throws Becky back to the ring and goes for a cover but the Lass Kicker kicks out at one.
Tamina makes a tag to Summer Rae and helps set up for a running close ranged clothesline. Summer goes for the pin but once again, Becky kicks out at an early count of one. Summer takes Becky to a turnbuckle, where she chokes her from the second rope with the use of her legs. A tag to Naomi is made and Naomi quickly stomps Becky to the ground, adding a running dropkick for good measures.
Naomi wears Becky down with a rest hold headlock and a double kick to the face. When Naomi misses a running attack and slips through the second ropes, an opportunity for Becky to make make a tag breaks. Naomi reenters the ring to prevent this from happening but Becky manages to pull through to make the tag to Natalya. Meanwhile, Naomi tags Summer back into the match.
A fired up Natalya makes quick work of Summer; landing in running clotheslines, a side Russian Leg Sweep and even a running dropkick! When Summer manages to counter Natalya's next move with a spinning kick, Charlotte decides to tag herself in. This proves to be a crucial mistake by the Women's Champion as Natalya counters a Figure Eight attempt into a Sharpshooter, forcing Charlotte to immediately tap out for the second week in a row! The babyfaces celebrate their win with the arms raised in the air and a bit of mocking towards Charlotte.
Thoughts: Another weekly Raw, another weekly win for Natalya.
I think it's safe to say that most of us saw this title rematch happening at Payback. However, the twist of Natalya calling up her uncle to join her at ringside was a bit of a surprise. I say surprising because I wasn't expecting WWE to pull out this trick again, although it was highly praised during Charlotte/Natalya's NXT TakeOver special.
I have mixed feelings going into this title match. One on side, you do have Bret who can sort of "take care" of any shenanigans Ric may try to pull. However, at the same time, it also feels like Ric has over stayed his welcome being at ringside with Charlotte. I would like to have seen Charlotte stand on her own at this point in her reign; so that she can feud one-on-one with Natalya.
Multi-Women tag matches tend to be a hit-or-miss but I found this match to be better than most that we've seen before. There was a decent amount of time for everyone involved to have their moment and Natalya came out with a big win again. Again, I only wish that Emma was somehow involved in the match to keep the side feud between her and Becky going.
I don't see Natalya walking out with title come Payback. WWE seem set on carrying this feud on but a nice twist would be seeing Natalya somehow overcoming Charlotte for the title with two wins under her belt already. All I can ask for at this point is for these two Superstars to deliver another great match.