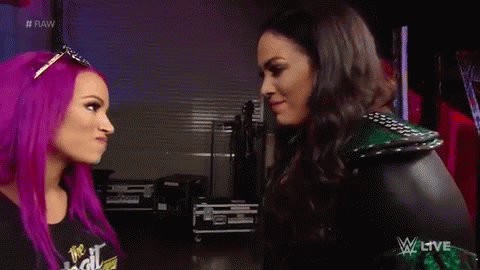 So thus far, we've seen the planting of new seeds and new dynamics… but whether those dynamics have clicked for the RAW women's division is another. Either way, despite being a bit late, let's see what developments happened on RAW this week!
First up, we see Bayley and Sasha catching up backstage… before they get interrupted by RAW Women's Champion Charlotte Flair and eventually Nia Jax. A little backstage scuffle ensues, which ends with Nia shoving Charlotte!
Later in the night, we see a frustrated Bayley and Sasha demand a match against their attackers from Stephanie McMahon for next week, as Sasha is still not 100%. Not impressed with their tone, Stephanie reminds them who the 'only Boss' is here and sets up their match… but for tonight.
In quite a simple match up, between what seems like RAW's only women superstars, Nia Jax gets a chance to shine. She picks off Sasha easily, knocking her off the apron to make her land on her injured leg. Meanwhile, she also squashes down Bayley and hits her with a leg drop for the win.
Alicia Fox is also seen backstage, testing Noam Dar's masculinity in a very interesting way.
Also one more nonsense Emmalina promo.
Thoughts: I'll be frank and say today's RAW division really reminds me of 2004. Yup, 2004 when Trish Stratus and Lita headed the Main Event of RAW… but Nidia, Jazz and Gail Kim were released and Molly Holly and Victoria were left trying to fill the empty spaces.
In this case, Charlotte and Sasha are Trish and Lita, while Nia and Bayley are Victoria and Molly. Knowing that the RAW division has several other women, as well as NXT Talent at its disposal is really the bitter cherry on top. Sure we know Charlotte is a heel magnet. Sure we know that Bayley and Sasha are the most over female talents to enter this business. Sure we know that Nia is the biggest looking woman we have had on the roster since Bull Nakano. However, it is so depressing that these current feuds are just not connecting.
Sasha and Charlotte have had some amazing opportunities, but all the other women have been left behind. That gap is now so evident.How can we take Nia seriously as a monster if she keeps getting beat? How can we take Sasha seriously if she's taken several clean losses? How can we take Emmalina seriously if she has taken over 2 months to debut?!
Either way, the fact that today's RAW division reminds me of the 2004 dark days of the "Diva Massacre" is a horribly negative sign. While storylines have been made, the predictability and poor quality have make the recent action a complete bore and the RAW division NEEDS something fresh to shake it up.
Do you like Stephanie and Sasha's altercation? Do you think Nia should have attacked Charlotte? Are you still pinning your hopes on Emma? Let me know in the comments!